GPS Fleet Tracking: Realized Benefits Far Outdo Expected Benefits
Fleets that rule out GPS fleet tracking technology underestimate the true value they can derive from this investment.
Survey respondents are nearly unanimous: 98% say fleet tracking has a beneficial impact on their fleet operations.
45% of organizations realized a positive ROI in less than a year, with 22% of those realizing a positive ROI in less than three months.
According to the results of the 2019 Fleet Technology Trends Survey, conducted for Verizon Connect by Bobit Business Media the publishers of Automotive Fleet, Heavy Duty Trucking and Work Truck among other trade publications, companies achieve proven benefits across multiple key performance indicators (KPIs) after implementing GPS fleet tracking technology. More importantly, the ROI they experience post-implementation far exceeds expectations, often in a very short time period.
This report, based on a survey completed by more than 1,200 U.S. fleet managers, executives and other mobile-business professionals, provides detailed insights into the value companies of all sizes across all industries are seeing from their technology investment. Let's take a closer look at the what respondents had to say about perceived versus actual benefits of GPS fleet tracking.
How did fleets expect to benefit from fleet tracking?
The good news is that those organizations that were not currently using GPS fleet tracking did expect potential benefits from implementing this technology. The top benefits cited were improved productivity (34%) and improved vehicle maintenance (30%). Respondents cited a total of nine categories across which they expected to better reach their goals with the help of fleet tracking technology: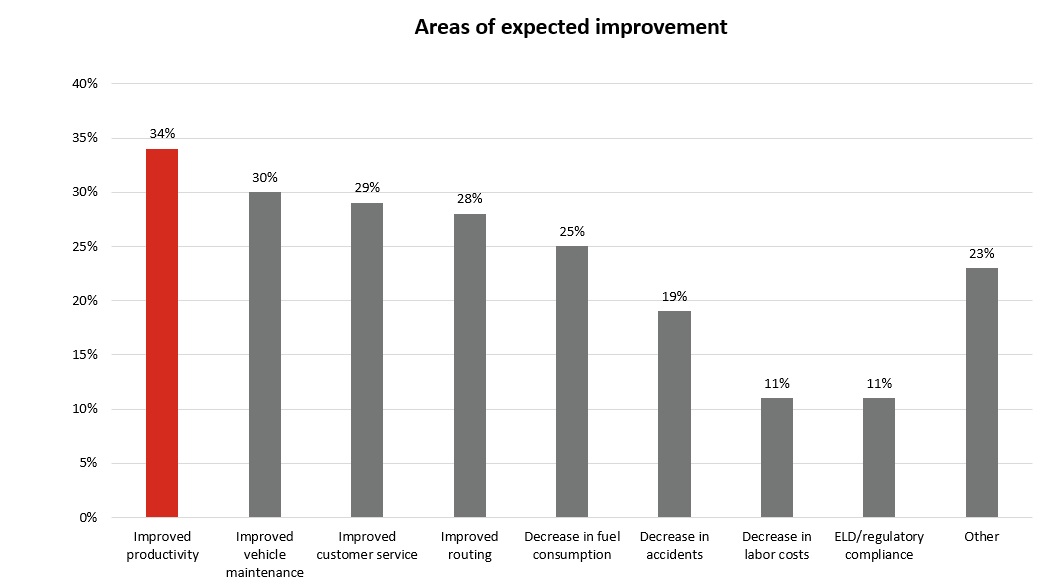 How did fleets actually benefit from fleet tracking?
The bigger news is that the actual benefits realized once the businesses implemented the fleet tracking technology far exceeded their expectations.
In fact, this is true for the second year in a row. While 34% of fleet managers without fleet tracking said they would expect productivity increases if they implemented fleet tracking, 53% of companies who are using the technology reported actual productivity increases. That's a gap of 19 percentage points.
As the chart below shows, reality outstrips expectations on every measure highlighted above, from labor cost reductions to improved customer service.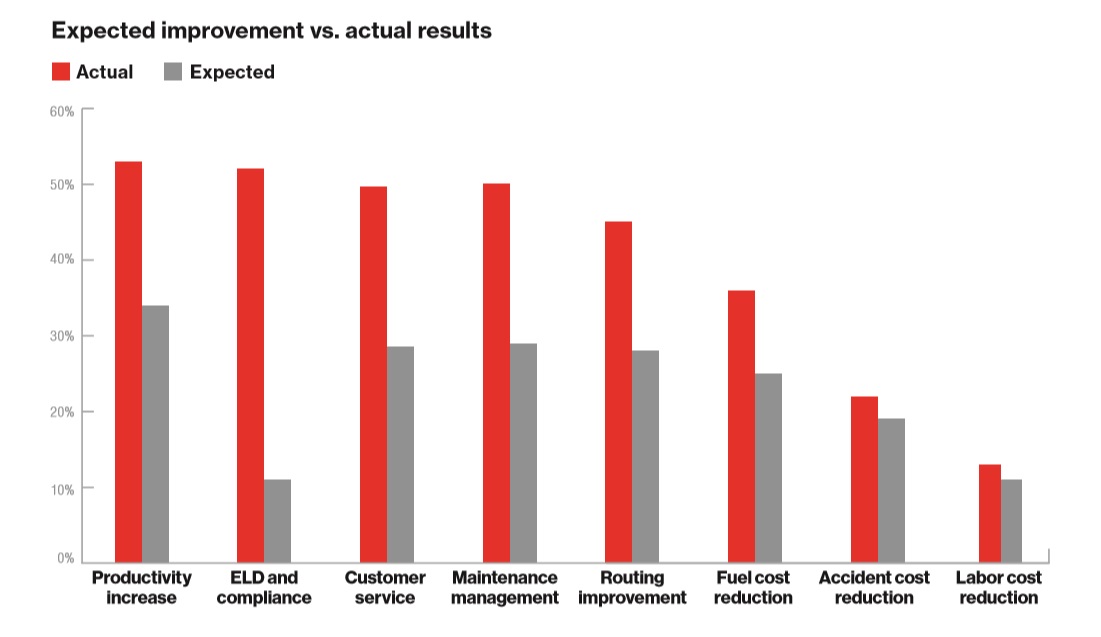 In addition to improvements in productivity, regulatory compliance, customer service, routing and maintenance, companies are also seeing significant cost savings from fleet technology: 36% of companies said they have lowered their fuel costs as a result of implementing fleet tracking. 22% reported lower accident costs, and 13% said the technology has helped them reduce labor costs.
Given the comprehensive capabilities of a GPS tracking system, it's promising that so many respondents are taking advantage of the technology to both reduce costs and streamline operations. Fleet tracking technology can impact your business by simplifying certain key processes. See how:
Hours of service: Set up hour tracking to manage legal driving hours and help improve the accuracy of trip scheduling to keep drivers within legal HOS limits.
Smart dispatching: Quickly locate and dispatch the nearest mobile worker with the right skills and vehicle for the job. Right-sized dispatch reduces per-mile costs, including fuel costs, and double-handling of service calls.
Prompt alerts: Set custom alerts for your drivers based on speeding, idling, harsh braking, and more to help reduce accidents and improve fuel utilization.
Fuel card tracking: Track fuel card usage and automatically identify suspicious transactions using smart algorithms that help identify and reduce fuel card fraud.
Smart maintenance: Generate vehicle maintenance alerts for your own service department or local dealer. Help improve the accuracy of your preventative maintenance program to control costs and improve vehicle safety.
Additional benefits beyond the expected
While it's clear that across the nine expected benefits categories reality far exceeded what organizations predicted, GPS tracking technology affords fleets even more positive results. Respondents agree nearly unanimously that fleet tracking has a beneficial impact on their fleet operations as a whole, with 98% confirming the technology's value.
In addition, more than 72% of trucking companies cited improved Hours of Service (HOS) compliance from Electronic Logging Device (ELD) as a major benefit of fleet technology. 80% consider fleet tracking "very" or "extremely" beneficial—up from 74% in 2018.
45% of organizations realized a positive post-implementation ROI in less than a year, with 22% of those realizing a positive ROI in less than three months.
Your business and GPS fleet tracking
Digital transformation has impacted all aspects of life, and GPS fleet tracking is here to stay. To derive more benefit out of your investment, it's important to understand your business goals and pick a solution that works best for you.
Here's a checklist that can guide you through this journey:
What are my top three business goals?
What is an estimated timeline to report a turnaround on these goals?
Is the fleet tracking solution accessible from anywhere at any time?
Will have the ability to monitor reports and data from all devices?
Does it offer a near real-time map that can help me see the activity and current status of all vehicles, workers and equipment?
Does it offer a driving coaching module?
To learn more about how your peers view and value GPS fleet tracking technology, download the full 2020 Fleet Trends report.
GPS fleet tracking users report positive ROI in less than six months. Get more interesting data points from 2020 Fleet Tracking Trends Report. Download now.