On-Board Diagnostics: What You Need to Know
June 11, 2019
When your vehicles are out of commission for either planned maintenance or - more often than not - unexpected repairs, your technicians, reputation and your business suffers. Planned fleet maintenance checkups can detect and fix minor mechanical problems before they become big ones, and preventive maintenance can help prevent, detect, and repair small problems before they become serious and expensive issues. There's no reason to let maintenance consume your fleet management efforts, whether talking cost containment and staying within budget or in considering vehicle uptime and productivity.

We're taking a closer look at how on-board diagnostics can help fleet owners extend vehicle life cycles, prevent breakdowns and reduce unexpected downtime.
What is OBD?
OBD stands for on-board diagnostics and refers to the diagnostic systems that have been mandatory in most modern vehicles manufactured in the United States since the 1996 introduction of the OBD-II specification. OBD systems gather information about the performance of a vehicle's various subsystems from on board computers and electronic control units (ECUs) to allow for quicker diagnosis of engine faults.
The history of onboard diagnostic systems starts after the mandate followed from a movement calling for environmental protection starting in the 1960s. When the Environmental Protection Agency (EPA) was founded shortly after 1970 and the Clean Air Act was passed, vehicle emissions were more closely monitored as a way to streamline reducing pollution across the country and as a result of mass adoption of electronic fuel injection in the 1980s.
Early OBD systems varied in the data they provided to a repair technician, and each vehicle manufacturer had their own set of standards for OBD. This meant repair shops had to buy separate scan tools to diagnose fault codes for each make of vehicle they serviced.
How is OBD different from OBDii?
As OBD systems became more common around the world, the Society of Automotive Engineers (SAE) recommended standardising both the data and the protocols that underpin on-board diagnostics, a recommendation that shaped the OBDii specification. OBDii provides more accurate and reliable system check data that can be accessed from a standardized OBD-ii data port. Vehicles manufactured after 1996 in the US and after 2001 in Europe support OBD2, and it has become the defacto standard worldwide. There are still 5 different signal protocols that OBD-II might use depending make and model year, but the standardization of the OBDii port means that repair shops can use a single scan tool that works across different manufacturers and provides detailed messages with specific DTC codes.
Additionally, with the development of telematics systems, this information can often be accessed by vehicle owners on a cloud-based system in near real-time.
Where can I find the OBDii port?
OBDii ports are usually fairly straight forward and easy to access - either under the steering wheel column in the cab of the vehicle or beneath the dashboard. Sometimes OBD ports are concealed behind a protective cover. If you can't find your OBDii port in locations 1–3 in the diagram below, try the other possible locations 4–9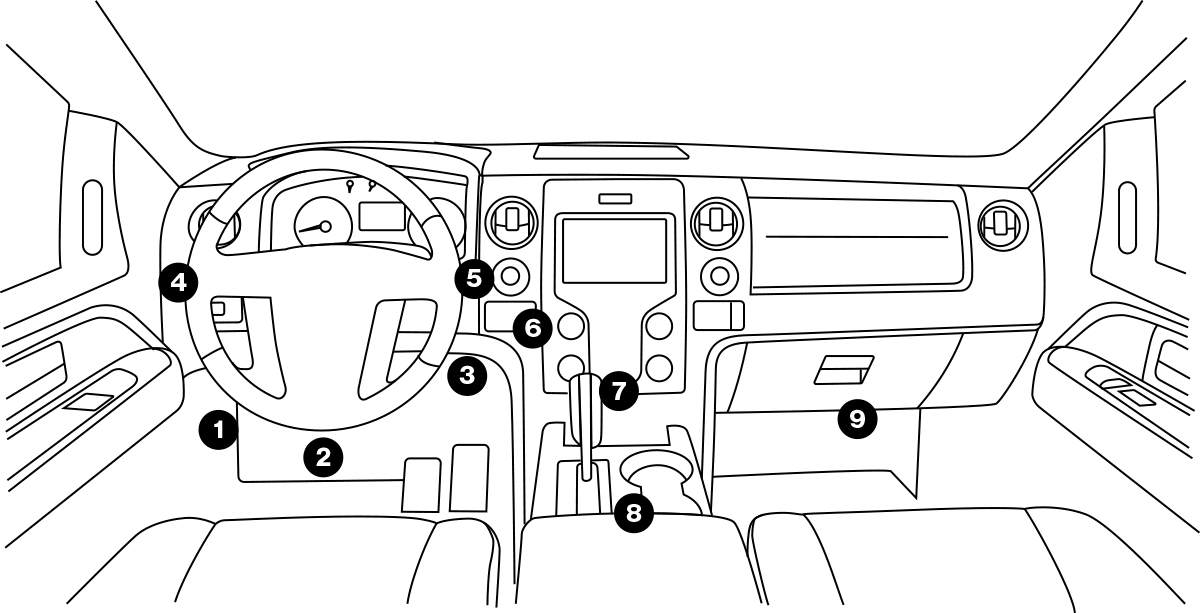 What data is provided by the OBDii system?
OBDii systems collect data from Engine Control Modules and can represent the data graphically, as well as provide performance level readouts and battery usage info. Most commonly in the event of a "Check Engine Light," OBDii diagnostic trouble codes are useful for finding a root cause to problems with vehicles and provide many types of data, including: real-time parameters, oxygen sensor test results, and data from emission control systems alongside Vehicle Identification Numbers (VINs).
Example diagnostic trouble codes (DTCs):
P-Codes: Powertrain
P0401 - Exhaust Gas Recirculation "A" Flow Insufficient Detected
P0455 - Evaporative Emission System Leak Detected (large leak)
B-Codes: Body
B0022 - Left Curtain Deployment Control 2 (Subfault)
B0083 - Second Row Left Seatbelt Load Limiter Deployment Control (Subfault)
C-Codes: Chassis
C0040 - Right Front Wheel Speed Sensor Circuit
C0045 - Brake Pressure Sensor "B" (Subfault)
U-Codes: Network
U0121 - Lost Communication With Anti-Lock Brake System (ABS) Control
U0107 - Lost Communication With Throttle Actuator Control Module
What diagnostics should I track?
Waiting for vehicle diagnostic scan tools to trigger a trouble code on a vehicle is not the proactive approach that can help fleet owners that depend on not slowing down technicians with avoidable repairs. Regularly monitoring engine functions like battery voltage, coolant temperature, powertrain malfunctions, intake valve issues, oxygen sensor problems are an easy way to stay ahead of maintenance to keep your vehicles running better, longer.
Fleet tracking software lets you set up automatic alerts based on a calendar, engine "on" time or miles driven, and pings you when vehicles are due for maintenance. The system can also send real-time notifications any time the engine throws a code, so you can immediately address any issues.
Additionally, and most importantly for fleet managers, the system keeps track of past services, so owners can see what's been done on each vehicle and the date of service. Every vehicle can get its own custom service plan and calendar making it a simple "set it and forget it" set up that cuts down on wasted time.
When developing your fleet's maintenance plan, ask yourself these five questions:
What should be covered in the preventive maintenance checkup?

Who will be responsible for preventive maintenance service?

When will the service take place?

How can you simplify your record keeping?

Where can you find more information?
How does OBD system monitoring help your business?
At any given time, vehicle diagnostic data is available for cross-referencing so owners can stay on top of regular maintenance. Without a solution like this, owners are likely playing a guessing game or outsourcing maintenance that can come at a hefty cost. Treating the root cause of problems before the damage is done helps keep operations run smoothly without mishap or unnecessary downtime. If left unchecked, unscheduled maintenance will drastically cut down on the efficiency of operations and can snowball into hurting company reputation within the industry.
While managing maintenance on a large number of vehicles might sound daunting or chaotic, United Subcontractors Inc. (USI), which boasts 979 vehicle fleet is spread out across the United States improved service and reaction time to their customers. "We are better at scheduling our jobs and meeting customer demand. We can predict when we will be somewhere based on what the hours are, where the jobs are and how long we will take to be there," says Jim Liverseed, Director of Facilities and Fleet Operations at USI. "It feels like we are smarter. We aren't having last-minute emergencies nearly as often. We are able to anticipate potential issues before they happen."
Making this process a team effort between drivers, technicians and administrators is the best recipe for success when it comes to maintenance. Drivers can and should be trained to monitor basic vehicle safety items (tires, brakes, steering, etc.); vehicle performance issues (including misfires and rough idling); and miscellaneous items (such as the heater or radio).

Why spend so much effort on a fleet maintenance plan? The time spent now to develop a fleet preventive maintenance plan will save a considerable amount of lost time in the future.