Why roadside assistance is not a luxury anymore, it's a necessity
$448 to $760 per vehicle – that's how much you lose on an average due to unexpected vehicle downtime every day. 1 Add the cost of towing charges, driver delays and the time it takes to locate a service professional to come to the vehicle location, and it becomes clear why dedicated roadside assistance can be so impactful for companies that rely on their fleet.
Towing can cost around $109 per vehicle, and two to three times more than that for heavy-duty trucks. While many factors impact the success of fleet operations, unexpected vehicle problems on the road can be particularly disruptive.
Common roadside incidents remain prevalent and costly
Roadside incidents are a common occurrence, and even a seemingly simple problem on the road can leave a driver stranded and seeking help. The top reasons for breakdowns include flat tires, dead batteries, and keys locked inside vehicles.2 While these incidents may seem mundane, they can have a big impact on a fleet's productivity, the safety of the individual drivers, and the company's bottom line.
Towing a vehicle can cost businesses far too much money, and it can be time-consuming and expensive to find a service professional to come to a remote location in the event of a breakdown. Often, back-office staff and fleet managers don't have the extra time in their day to track down the right help when an incident occurs. Drivers' schedules are also delayed when they have vehicle issues, meaning lost productivity and a negative impact on the experience of the end customer.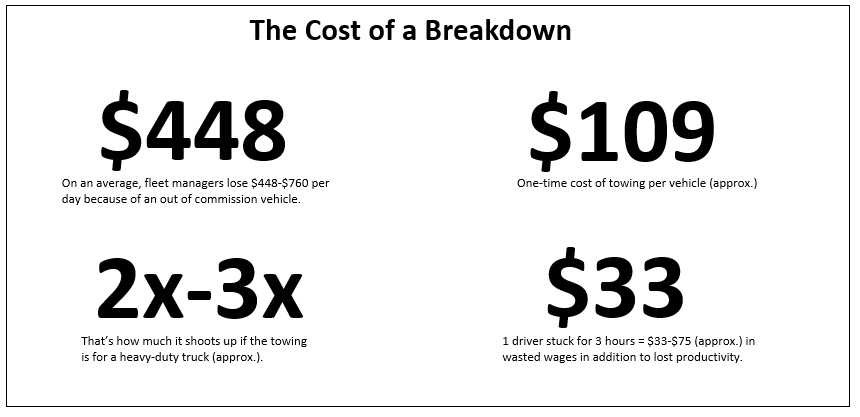 Benefits of roadside assistance for fleets
With roadside assistance, professional help for your drivers is just a phone call or SMS away. Your organization and your fleet can instantly benefit from:
The ability to keep drivers safe with 24/7 on-demand roadside assistance
The power to get drivers back on the road as quickly as possible
Savings on the costs associated with vehicle downtime and service fees
Peace of mind knowing vehicles on the road have help waiting
Roadside assistance for all vehicles within a fleet, including commercial trucks, light and heavy-duty vehicles, cars, vans, and more
Fleets should look for solutions that offer:
Quick, easy access: Admins and drivers can both instantly access roadside-assistance provider's contact information and necessary vehicle information
Mobile view: Drivers automatically can view call options on their mobile device through an app
Comprehensive services: Towing, locksmith services, battery boost, fuel delivery, winch service and tire changes
24/7 availability: Reach a service professional at anytime, anywhere in the U.S. and Canada
How does roadside assistance work within an integrated telematics platform?
A roadside assistance feature within an integrated telematics platform can help busy managers streamline the oversight of their fleet of vehicles to help meet tight deadlines and make sure the work goes on without major roadblocks.
When a driver calls dispatch to report a vehicle issue, the manager can make an entry into the centralized telematics platform. With the help of technology, the drivers are connected to skilled technicians who are able to get the vehicle up and running. The managers and dispatchers can get back to work quickly, while roadside assistance takes care of the truck vehicle.
How it works
When a vehicle has an issue, you're able to locate that vehicle on a live map using a mobile app or website platform and select it to send roadside assistance. A toll-free 1-800 number will pop up in conjunction with a unique 8-digit code, which is given to the roadside assistance operator when you call.
You're given the option to share your phone number with customer service reps in order to receive an SMS message with an embedded link that allows you to track, in near real time, exactly where the rescue vehicle is and when it will be arriving. You can also share that link with others; for instance, if you're a fleet manager, you can share it with the stranded driver.
What it provides
Keep drivers moving on to the next job and off the shoulder of busy highways. Roadside assistance provides value-added features to help keep trucks and drivers safe and productive:
Towing: First 25 miles of towing included; customers need to pay an additional charge for anything beyond that
Winching: Pull light vehicles stuck on ice, in mud or snow on up to 30 feet off a public roadway
Fuel delivery: Deliver up to 3 gallons of fuel to a vehicle that runs out of gas and diesel
Tire service: Replace one flat or blown out tire with vehicle's spare tire
Battery service: Jumpstart dead battery and/or make minor mechanical adjustments to get vehicle going again. This excludes hybrid vehicles.
Lock-out service: Help locked-out drivers gain access to vehicles. This excludes the cost of keys, parts, or additional labor.
Protect your fleet on the road
The business we are in requires us to be 100% operational to be profitable in a very competitive landscape. Emergency roadside assistance offers quick, cost-effective coverage, whether a truck needs a fuel delivery or has a flat tire. With its integrated approach, roadside assistance from Verizon Connect can be a game-changer for your business. When the world is quickly moving towards connected vehicles, connected people and connected work, having an integrated solution is critical to business success.
Learn more about how roadside assistance can help your fleet make the most of the road ahead.
Sources
1https://www.autosphere.ca/tirenews/tires-management/2018/03/09/maintenance-ounce-of-prevention/
2 https://newsroom.aaa.com/2016/07/despite-vehicle-advances-break-downs-at-record-high/