The High Cost of Traffic Congestion in Urban Areas
August 20, 2019
Rush hour. Inching forward. Aggressive drivers. Dangerous maneuvers. Being stuck in heavy traffic congestion is a universal experience that nobody enjoys. The problems traffic congestion causes go beyond fender benders and frustration, it actually has a tremendous financial impact on the trucking industry and the supply chain. When drivers get stuck in gridlock, it has a direct impact on delayed deliveries, fuel consumption, travel time, and vehicle wear and tear, all of which impact the cost of doing business.
For fleet managers looking to streamline operations, finding ways to help their drivers avoid heavy traffic congestion is a good place to start. In this post, we'll cover the high costs of traffic congestion in trucking, the worst U.S. cities for delays, and ways GPS software can help fleet managers reduce driving time and improve fuel efficiency with improved routes.
Growing demand for deliveries, shortage of truck drivers
According to a study by the American Transportation Research Institute (ATRI), the trucking industry incurred more than $74.5 billion dollars in additional operating costs in 2016 due to traffic congestion1. On top of that, consumer demand to have goods delivered is growing thanks to e-commerce. Along with growing delivery needs, there is a severe shortage of truck drivers. The American Trucking Association estimates that there is a nationwide need for about 60,000 additional drivers, and that figure could increase to 100,000 in just a few short years; and about 51,000 drivers are already needed to fill existing (and growing) demand3. With exponentially increasing demands and a dwindling workforce of drivers, there are serious concerns about the ability of carriers to keep up.
The growing demand for deliveries is cause for concern for traffic congestion, too. Big brands like Amazon have begun hiring individuals to keep up with package deliveries, adding not just trucking traffic but road traffic from smaller automobiles as well. The more traffic congestion, the longer it can take for deliveries to arrive, especially for big retail brands expecting large shipments. Many companies, including the two major brands Wal-Mart and Kroger, are developing strict delivery policies for their suppliers and they are beginning to impose fines for late deliveries2. It's a lose-lose situation for retailers and carriers: retailers lose potential revenue to online sales and carriers get fined for late deliveries due to increased traffic congestion.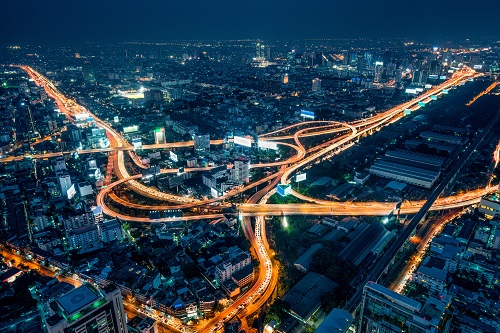 Traffic congestion is a global issue. It has increased globally over the past ten years (TomTom) and the majority of congestion occurs in urban areas. Some of the most congested and dangerous areas are outside of the United States. Analytics from the INRIX Global Traffic Scoreboard found that Moscow, Russia, Istanbul, Turkey, Bogota, Colombia, and Mexico City, Mexico were amongst the worst4. Now, let's switch gears and cover the worst traffic cities in the USA.
Worst traffic cities in the USA
In the United States, severe urban traffic contributed to 88% of the $74.5 billion dollars tied to traffic congestion (ATRI). Below are the top ten worst traffic cities in the USA with the average annual time spent in congestion and the cost of congestion per motorist:
Boston, MA: 164 hours ($2,291)
Washington, DC: 155 hours ($2,161)
Chicago, IL: 138 hours ($1,920)
New York City, NY: 133 hours ($1,859)
Los Angeles, CA: 128 hours ($1,788)
Seattle, WA: 138 hours ($1,932)
Pittsburgh, PA: 127 hours ($1,776)
San Francisco, CA: 116 hours ($1,624)
Philadelphia, PA: 112 hours ($1,568)
Portland, OR: 116 hours ($1,625)
As economic activity and populations in metropolitan areas continue to grow, it's necessary for feet managers to make changes about the way they approach transportation in the supply chain.
Reduce costs with route planning software
The ATRI found that the cost of traffic congestion averages out to about $6,478 per large truck in the United States1. For a considerably small fleet with just 50 vehicles, that's more than $320,000 in lost revenue annually. That is an eye opening number for fleet managers responsible for keeping operating costs under control. Route planning software can help you find cost-effective routes that avoid heavy congestion levels and other issues so that you start saving today. Some features and benefits of dynamic routing include:
The ability for GPS maps to adapt routes based on real time traffic conditions like delays due to an accident or major construction.
A unique 'day- ahead' view that allows you to make last-minute changes such as driver absences, out-of-service vehicles and new or changed jobs.
Flexibility to view and edit routes for a specific day, add new jobs to a specific route or edit existing jobs
Automatically assign a job to a route or update a single route or selected set of routes
The future of trucking and traffic congestion relies on technology and smart cities
Reducing congestion and keeping up with consumer demands are issues that will continue to be top of mind for transportation carriers and beyond. The future is likely to rely upon intelligent transportation systems and other emerging technologies that make smart cities and their infrastructure more connected with drivers and vehicles on the road.
Trucking-only lanes that bypass on/off ramps.
V2X communication warning drivers of accidents, inclement weather, infrastructure issues, and dangerous drivers nearby.
V2I communication which allow vehicles to communicate with objects like traffic signals or smart parking spaces.
Autonomous vehicles to address the shortage of available drivers.
Fleet dash cams that record contextual elements of incidents and capture data that can be analyzed to make infrastructure updates.
Smart mobility initiatives which include public transportation, car-sharing, and carpooling as a way to reduce the number of vehicles on the road.
Traffic congestion is a serious issue that impacts the global economy, the daily lives of consumers and individuals, and the cost of doing business in the transportation supply chain. The shortage of truck drivers and increasing consumer demands are creating a unique and potentially volatile situation that is forcing businesses to turn to technology to make ends meet. Local and federal governments are evaluating ways to reduce congestion by introducing smart city technologies. Fleet managers are using technology available today to keep their drivers on the road and on time.
If you're a fleet manager looking for ways to improve the use of technology in your operation, reach out today to the experts at Verizon Connect for help.
Sources
1 ATRI https://atri-online.org/wp-content/uploads/2017/05/ATRI-Cost-of-Congestion-05-2017.pdf
2 WSJ https://www.wsj.com/articles/wal-mart-kroger-impose-more-fines-on-suppliers-for-missed-deliveries-1511784000
3 American Trucking Association
https://www.washingtonpost.com/news/wonk/wp/2018/05/28/america-has-a-massive-truck-driver-shortage-heres-why-few-want-an-80000-job/
4 INRIX and Forbes http://inrix.com/scorecard/
https://www.forbes.com/sites/jimgorzelany/2019/02/11/here-are-the-u-s-cities-suffering-the-worst-traffic-congestion/#6eadf4f16e36