New York is one of the safest states but ranks #10 for the most dangerous drivers.
Vermont, Virginia and Connecticut have the fewest speeding events.
South Dakota, North Dakota and Montana have the most speeding events.
What makes one state safer to drive in versus another? Using U.S. Department of Transportation and Census statistics and data from vehicles equipped with Verizon Connect fleet management software, we analyzed driving behavior to arrive at the safest and riskiest U.S. states to drive in. These insights take a number of factors into consideration, including harsh acceleration, braking and cornering and excessive speeding.
Using this data, we identified the 10 safest and 10 most dangerous states, as well as the states with the safest and most dangerous commercial vehicle drivers. Let's dive into the data and explore how your fleet can stay safe no matter what state they're in.
Where does your state fall on the safety scale?
The infographic below highlights the safest states, safest drivers and the top three states with the fewest speeding events. Also included are the states and drivers that that rank most dangerous and clock in with the highest number of speeding incidents. As you can see, Rhode Island took the number one spot on the list as the safest driving state, North Dakota is home to the safest drivers and the fewest speeding events are recorded in Vermont.
Point to note is all of the safest states are in the northeast and eastern part of the country, while the Northwest has several most dangerous states for commercial driving.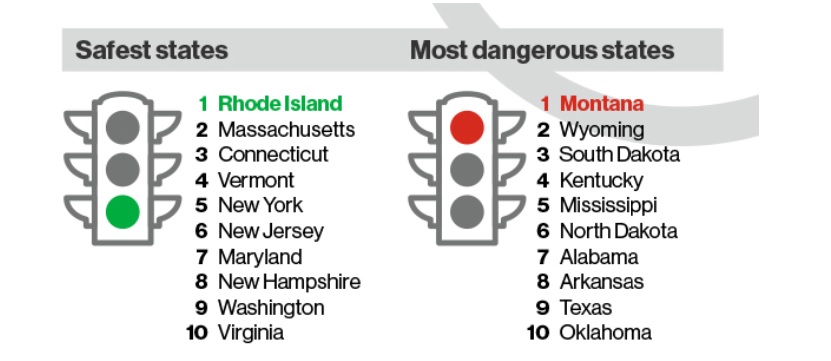 When it comes to states with worst drivers, Utah sees the most dangerous driving behavior, followed by Georgia, California, Alabama and Texas. And although North Dakota is the sixth most dangerous state overall, it takes top honors for safest driving behavior—followed by Maine, Nebraska and Vermont. New York made the list of safest states, but it's also number 10 on the list of states with the most dangerous commercial drivers.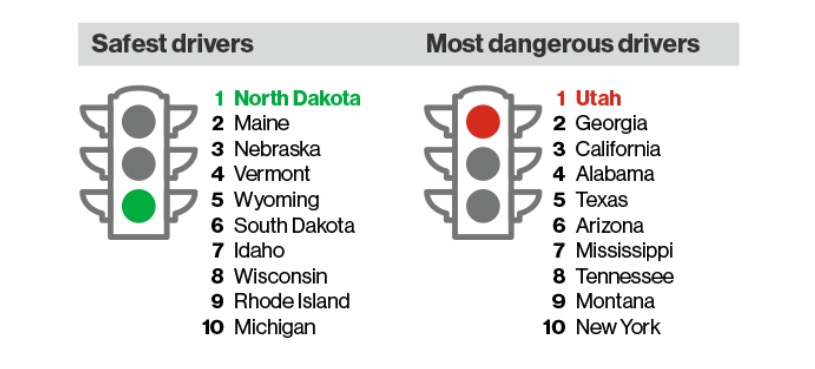 See the complete infographic here
States with the best drivers aren't putting the pedal to the metal
Not surprisingly, speeding is one of the biggest indicators of safe or unsafe driving behavior. Vermont, Virginia and Connecticut have the fewest incidents of speeding tickets, which contributes to their top spots on the list of safest states and drivers. South Dakota, North Dakota and Montana have the most speeding events. While the wide-open roads in these states may lead to drivers thinking they can get away with a heavier foot, the reality is that this leads to more risk and more violations.
In the light of this data, we know that there are safe and not-so-safe regions for driving. Businesses can build practices around the following to encourage safe driving practices:
Reduce speeding: Beyond wasting fuel, speeding increases the risk of accidents and can lead to other behaviors that put your drivers and others at risk.
Reduce hard braking and acceleration: Hard braking and acceleration can often be a sign of speeding, aggressive or distracted driving.
Reduce excessive driving: The more time drivers spend on the road, the greater the risk of accidents or breakdowns.
Improve vehicle safety through better maintenance: A well-maintained vehicle is a safer vehicle.
Improve driver protection in emergency situations: Inclement weather, poor road quality and remote locations can all impact driver safety. Drivers can run off the road, get stuck in snow or mud or break down in isolated areas.
Implement proactive coaching for drivers who need help: Just-in-time safety training is proven to be much more effective in reinforcing good habits than general or group coaching sessions.
Here are some tips to get you started with effective driver coaching in your organization:
The safest drivers always stay alert: A key factor in safe driving is being aware of your surroundings and staying sharp and focused. Simple tips like staying hydrated, eating healthy snacks, listening to comedy or a good book for entertainment and turning on the air conditioning can help your drivers stay safe on the road.
Try your hand at gamification: Healthy competition can help motivate employees to improve. Gamification allows companies to leverage the inherent desire to compete and can help employees achieve company-wide goals. Managers can provide tangible rewards, such as gift cards or PTO, to encourage employees to meet their safety goals.
Work toward changing your entire company culture: Because culture and safety have such a clear connection, establishing safety procedures and enforcing them company-wide can go a long way towards positively impacting the safety of your fleet. By achieving the right safety culture, drivers will naturally do the right and safe thing as a matter of choice.
See safety in action
When Bill Howe Plumbing noticed an increase in accidents on the road, they knew they needed to find a solution to help improve driving behaviors and maintain their good reputation. According to Risk Manager, Rhett Wheeler, "the [safety] reports initially were very shocking." Their average safety score was a 77, and some were below 30. The year before implementing fleet tracking software, the company had 16 accidents totaling nearly $1M in damages.
However, by utilizing their GPS tracking system and driver coaching, Bill Howe Plumbing improved their safety score to a 97, and only saw two accidents the year after implementation. One driver commented that his "driving habits have changed dramatically."