Solving Common Service Problems
Some of the best business lessons come from seeing how companies like yours handle the same challenges you face every day. Download this free eBook to learn how 4 businesses like yours used GPS Fleet Management Software to:
Increase productivity and efficiency
Enhance customer service
Cut operating and maintenance expenses
Validate payroll
Keep technicians accountable
Improve driver behavior and security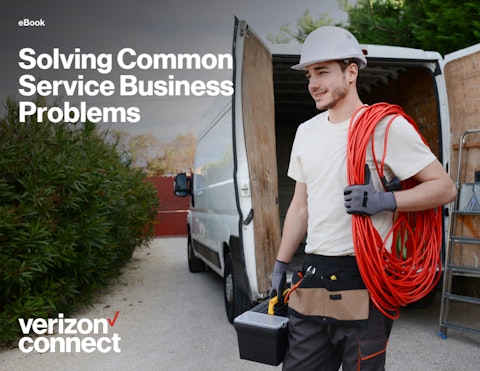 What's inside this eBook?
Bill Howe Plumbing decreases annual accidents with Reveal
Bill Howe Companies is a family-owned enterprise that serves all of San Diego with plumbing, HVAC and flooding and restoration services. Reveal gave them the insights they needed to make better safety and business decisions—all with one GPS fleet tracking system.
Rohrer's cuts insurance costs and stays on time with Reveal
Rohrer's One Hour Heating and Air Conditioning has served the Lancaster area for nearly 60 years. The company brought in Verizon Connect Reveal to help cut insurance premiums and better deliver on its 100% satisfaction guarantee: "Always on time, or you don't pay a dime."
Reveal helps improve payroll and insurance premiums for Paul Davis Restoration
Paul Davis Restoration of Boston South repairs and cleans up damage to institutional, commercial and residential structures resulting from storms, fires, water and mold. To improve profitability, the company needed a way to more accurately track worker hours and cut insurance premiums—and it found both with Verizon Connect Reveal.
Dallas Plumbing Company slashes costs with Reveal
Dallas Plumbing Company has met the plumbing needs of the Dallas, Texas area since 1903. During that time, the company has expanded to become the largest plumbing, air conditioning and heating service and repair company serving Dallas, Collin and Tarrant Counties.