Law Enforcement Fleets Are Optimizing with Telematics
Law enforcement fleets are making gains, such as improved officer safety, greater efficiency and better vehicle utilization, with the help of the latest in telematics technology.
This free eBook explains how a telematics solution can help your agency meet its safety and budget goals, while streamlining day-to-day processes. Learn how driver and vehicle-health data can help contribute to officer and public safety.
Email my eBook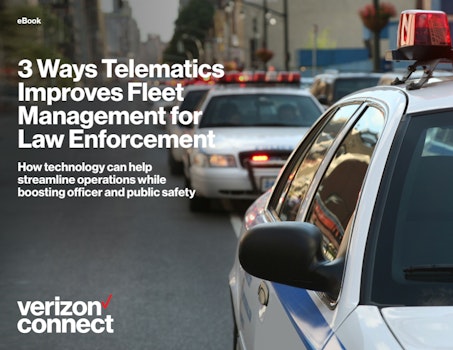 Let's email your free eBook
What's inside?
Emergency dispatch tools
Live vehicle tracking helps dispatchers route vehicles efficiently, improving emergency response times.
Electronic maintenance tracking
Use engine diagnostic alerts and mileage tracking to speed up the reporting, and resolution, of maintenance issues.
Coaching tools for safer driving
Harsh-driving alerts and seat belt use notifications help better manage driving behaviors.
Utilization reports
Access vehicle-utilization data to understand costs and demonstrate responsible use of public dollars.
Keep reading