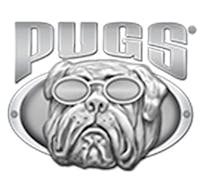 Right-sizing restock routes is helping Pugs grow
With more than 130 drivers regularly restocking thousands of outlets throughout the U.S., it's critical to make sure restocking of Pugs Gear is on point; do it too often and you're wasting money on fuel, maintenance and labor costs – don't do it enough and you miss out on sales.
"Our biggest challenge at Pugs, and really in the convenience retailing business, is stores been in stock," explains Russell Drury, Corporate Marketing Director at Pugs.
"Utilizing technology today, such as Verizon Connect, helps us to direct our reps to visit the stores at the right times, the right frequencies, so they have the adequate inventory to make sure they're in stock."
Better timing leads to proactive customer service
In business, it's not just the quality of information that's important - it needs to be delivered when it can be used to maximum effect. That's the advantage of using real-time data to manage your mobile workforce.
"Many times we can fix the issue before our customers even realize what's happened."

Tom Rogers, VP of Sales, Pugs
"Prior to Verizon Connect we were relying on very dated information," recounts Tom Rogers, VP of Sales at Pugs. "If we're coming to the customers two days after the fact it's already too late. So now with Verizon Connect we're able to find the problem before the customer does, so we can be proactive."
"Many times we can fix the issue before our customers even realize what's happened."
On track and on target
When you have a limited number of reps servicing more than 17,000 outlets across the country, you need to keep your team working efficiently, and Verizon Connect is helping Pugs to make sure their drivers stay productive at all times.
"We can see exactly where our reps are and make sure they're in the right place at the right time and, if they're not, we can react very quickly so that we can get them there."
Verizon Connect helps drivers with more than just a destination. It lets them know exactly what they need to do when they arrive.
"The technology tells them what the product mix should be for that retailer," adds Drury. "What the planogram should look like for that store, so they set the appropriate inventory and the appropriate mix – the appropriate planogram that helps us maximize our sales."
Smarter data means smarter decisions
Being able to maximize the return on the resources you have is essential when you're a growing business. Verizon Connect is making sure a driver's time isn't being wasted and unnecessary miles aren't being driven.
"A lot of times customers will want weekly service routes, when in fact [the Verizon Connect information shows] there's no need for it."

Brent Bartholio, Senior Sales Manager, Pugs
Claudia Bradshaw, Routing Specialist at Pugs, explains how Verizon Connect solutions are building a unified view of the entire business.
"I'm excited about using [Verizon Connect] because I like working with all of these pieces. I like figuring out that this data on the fleet side means this data on reporting."
Store visits are being fine tuned to avoid wasted miles.
"A lot of times customers will want weekly service routes, when in fact there's no need for it," says Brent Bartholio, Senior Sales Manager at Pugs. "We can show them a timeframe that we've prescribed based on the Verizon Connect information."
Data that supports business growth
Data on its own doesn't always add value. But when it's analyzed intelligently, converted into actionable information and provided to the right people at the right time - then it becomes a major factor in helping businesses grow.
"Using Verizon Connect becomes a win-win situation for all of us," comments Bradshaw. "It gives us the information we need to make our customers successful."
Leveraging new technology has helped Rogers be optimistic about the future.
"When we started out we were probably a million-dollar company. Now our sales exceed 60 million dollars a year, so it's a lot of fun to watch that grow - and we'll continue to grow."
Find out how our platform gives you the visibility you need to get more done.