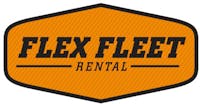 Crystal Jones, Fleet Services Manager
Built-in fleet management system - Making it easy to do more
Flex Fleet has over 1,700 trucks in its fleet, which are rented out to customers and then turned back out to the secondary market. Verizon Connect Fleet for GM has given them exactly what they need (and more) to manage their business effectively - it also helps them deliver amazing customer service.
Even better, their GM trucks had all the hardware needed to get started.* None of the downtime or additional costs normally required by aftermarket GPS tracking solutions.
The built-in hardware units offer another significant advantage.
"With [previous solutions], we didn't get our units back all the time … we had to write off almost $46,000 in units. Being able to use this and not having to worry about taking out a unit is a huge plus for us," states Crystal Jones, fleet services manager, Flex Fleet Rental.
The tamper-proof units also provide Flex Fleet with an accurate, up-to-the-minute record of the vehicle's history, improving resale value.
'Mileage is our biggest concern, so that we know when to pull the truck and have it sold."
"It is spot-on for mileage and oil life, etc. It gives us the information we need, and it's accurate, so we don't have to question it."
"We can let the customers know when their oil needs to be changed or that their tire pressure is low ' so that they can get the best use out of the vehicle [and we can help ensure] the overall health of the vehicle."
'It gives us the information we need, and it's accurate, so we don't have to question it.'

Crystal Jones, fleet services manager
"We know when the oil has been changed and we can show proof that the maintenance has been taken care of."
Responsive support - There when you need them
Since fleet management software is a brand new way to do business for some, it's vital to have a helpful support team backing you from day one. Verizon Connect support is focused on being quick to help customers get the full benefit of the technology, something Flex Fleet commented on.
'The responses are quick when I am in need of assistance,' says Jones. "We had a high-priority client, and [Verizon Connect Support] treated the situation like we needed them to, and were on top of it."
"[It] was amazing."
A secret weapon for superior customer service
Verizon Connect Fleet for GM has allowed Flex Fleet to offer their customers some exciting new services, without a lot of extra effort. It's an easy way to beat the competition and increase customer satisfaction.
Customers get online access to metrics for rented trucks, and use the data in a variety of helpful ways.
'We have a customer that actually uses Verizon Connect Fleet for GM to pay his employees,' says Jones. 'As soon as the truck gets turned on, he knows that they're working. And then, when they get back to their location, he knows that they are done working."
"I have people that use it for mileage and fuel so that they know when their employees are filling the trucks up [and matching that up against] fuel cards to know that they're not using it for personal reasons."
Find out how our platform gives you the visibility you need to get more done.