Commercial Vehicle Drivers Drive Safer Than Common Perception
81%: that's the percentage of people who have observed dangerous driving by a commercial vehicle.
69% observed speeding instances by a commercial vehicle.
42% say that installing a dash cam is the #1 way to reduce accidents involving commercial vehicles.
An enormous number of commercial motor vehicles (CMVs) travel the United States' roadways every day. Every time one of your fleet's trucks, cars or other vehicles hits the road, it is representing your company. At the same time, your truck drivers are assuming responsibility for other commercial and passenger vehicles on the road.
A recent study conducted by Verizon Connect and Wakefield Research strives to separate perception from reality regarding commercial driving and road safety. Let's take a look at the results and how these trends can impact the future of roads and safety-supporting technologies.
What other drivers see as they share the road with commercial trucks
Overall, American drivers have some commercial vehicle safety misperceptions. According to the Wakefield study, eighty-three percent believe they are safer drivers than most drivers of commercial vehicles.
Contributing to American drivers' perceptions is the fact that 67% believe commercial drivers are more focused on schedules than safety, while 81% have witnessed a commercial vehicle being driven dangerously, 54% of them have witnessed an accident involving a commercial vehicle.
Given that 97% of all severe crashes in the United States involve non-commercial trucks, it's clear that drivers perceive a greater roadway danger than is actually present from commercial transport. But the report numbers also tell us that all vehicles on the road inevitably face some dangers and challenges. See the complete infographic here.
Commercial driving has become more hazardous
While American drivers do hold misperceptions about the dangers of commercial trucks, commercial drivers face very real issues impacting how they do their job.
Last-mile delivery is one of the biggest safety concerns to emerge in the trucking industry in recent years. The rise of ecommerce has led to an ever-growing volume of deliveries being made across the country, many in densely populated areas. According to the Wakefield data, while the rate of severe crashes in densely populated areas is increasing faster for lighter commercial trucks (27%) than for heavy-duty trucks (16%), last-mile delivery is a concern for all commercial vehicles. The study also found that while 58% of people believe more vehicle accidents happen on highways, 70% of fatal commercial truck crashes actually occur on roads that are not interstate highways.
While the challenges and inherent safety issues associated with last-mile delivery remain a concern, smart technology has made it possible to help mitigate dangers and make for safer navigation of densely populated areas.
Commercial vehicle safety and video monitoring
Smart video monitoring can help reduce the frequency of accidents on highways and in densely populated areas in addition to bringing about a change in driver behavior. People overwhelmingly agree—74% of the adults in the Wakefield study said that commercial vehicle drivers shouldn't be allowed on the road without a fleet dash cam or some sort of video monitoring of their driving habits. Forty-two percent believe that installing a dashboard camera is the #1 way to reduce accidents involving commercial vehicles.
By installing integrated smart video within your commercial fleet's vehicles, you can essentially "ride shotgun" on each trip by collecting a permanent visual record of each vehicle's travels—including weather incidents, harsh driving occurrences, collisions, other accidents and basic vehicle operation. Overall, the video system could offer your fleet and your organization a host of safety-related benefits:
Eyewitness account
In the event of an accident, video can be used to reconstruct events leading up to the incident – including driver behavior, weather conditions, the position of vehicles involved and other circumstances.
In the face of false liability claims, video can serve as proof in helping to establish innocence or non-involvement.
Video proof can also help prevent insurance premium hikes or damage payouts resulting from false accident claims.
By thwarting false claims, and uncovering the truth about any accidents that occur, video evidence helps to protect your company's reputation.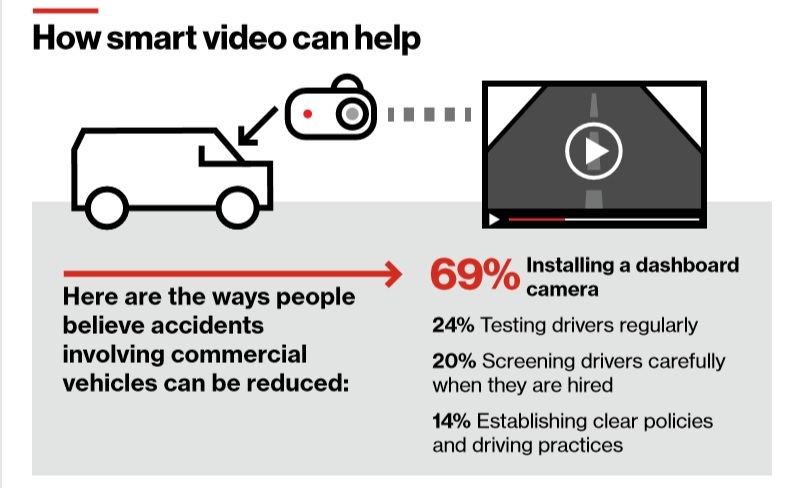 Driver behavior and coaching
While it won't eliminate unsafe driving behaviors, the mere presence of in-cab video might prompt drivers to drive more slowly and cautiously, in turn reducing the chance of an accident.
Video footage can be used to enhance existing driver training programs, providing factual accounts of unsafe driving incidents so drivers get a better sense of what needs improvement.
You and your fleet managers can customize and tailor "coachable moments" based on each driver's unique style and specific needs.
You can integrate smart video with a telematics solution's driver-scoring reports to rank drivers based on safety performance.
Video can help you reinforce company safe-driving policies as part of accident prevention efforts.
What to look for in a smart video solution
When looking to invest in a fleet-wide in-cab video solution, make sure the technology is intuitive, comprehensive and that it provides capabilities that easily integrate with your telematics and GPS system, including:
Easy to mount and install
High-definition camera
Wide sightline with a 170-degree field of view
Ability to continuously transmit directly to a single-source
Mobile, email and desktop alerts when new video footage is available
Ability to receive intelligent clips of relevant footage without sorting through hours of video
Ability to seamlessly access the right information with a single login
As more vehicles – both commercial and private passenger – continue to share the roadways more often, safety will continue to be a top priority for all commercial fleets. Video technology can go a long way in impacting the safety of your drivers and vehicles on the road.
Want to learn more about the state of American drivers' perception of commercial driving? Download the entire research report here.
Source:
Data based on a survey of 1,000 U.S. adults conducted by Wakefield Research for Verizon Connect and official National Highway Traffic Safety Administration and U.S. Department of Transportation Federal Motor Carrier Safety Administration (FMCSA) data.