Solving Common Construction Problems
Some of the best business lessons come from seeing how companies like yours handle the same challenges you face every day. Download this free eBook to learn how 4 businesses like yours used GPS Fleet Management Software to:
Increase productivity and efficiency
Cut operating and maintenance expenses
Keep workers accountable
Stay competitive
Improve driver behavior and security
Email my eBook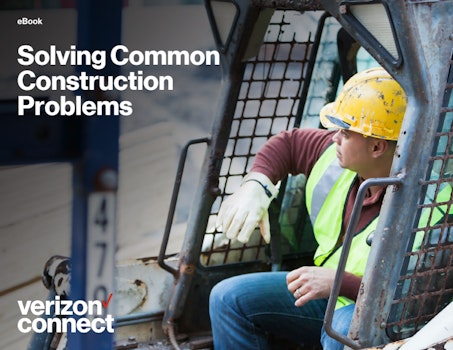 Let's email your free eBook
What's inside?
Kimball Construction improves driver and vehicle visibility
Kimball Construction needed a system to operate their business more efficiently and safely. Since installing Verizon Connect Reveal on its 18 vehicles, they have been able to run reporting on location and activity tracking 24/7, resulting in greater driver accountability with idle times, speed, mileage and hours worked. The Verizon Connect support team was vital to their success.
Deep South Equipment makes seamless switch
Deep South Equipment provides top-quality industrial equipment to customers in the lumber, paper and warehousing markets. With more than 450 vehicles to track, Deep South Equipment required a robust GPS tracking and fleet management solution, excellent customer service, and support, all of which they found with Verizon Connect Reveal.
Capital Crane gets support and savings from Verizon Connect
Capital Crane Limited rents equipment for any large-scale construction site, with a fully winterized fleet ranging from all-terrain cranes to trailers to pickup trucks. Verizon Connect Reveal gives the company the robust fleet management solution and unrelenting support it needs to thrive in the harsh conditions of northeast Canada.
USI seamlessly integrates Reveal for a more efficient fleet
United Subcontractors, Inc. (USI) has built an alliance of building professionals 1,900 strong. USI serves construction industry clients in 16 states from its Minnesota headquarters and 46 additional locations. Needing a software solution to improve efficiency for its fleet of vans, pickup trucks, various class box trucks and trailers, USI turned to Verizon Connect Reveal.
Keep reading