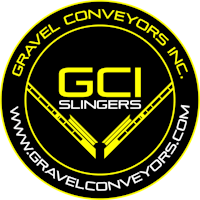 Travis Pettijohn, Owner, GCI Slingers and Gravel Conveyors
GCI Slingers Grows Efficiency with Fleet Metrics
GCI Slingers and Gravel Conveyors manufactures and installs slinger bodies for dump trucks, along with running a fleet of trucks for gravel delivery. Since 2014, they've used Verizon Connect Reveal to make their fleet safer, more efficient and more productive.
"With Verizon Connect, I was able to implement the metrics that I wanted to be able to control my job cost and profit." —Travis Pettijohn, Owner, GCI Slingers and Gravel Conveyors
The Challenge
"We had a fleet management solution before the technology got very good," says Aaron Witmer, Operations Manager at GCI Slingers. "We decided we really had to get up with our metrics."
The company had needs in four major areas: PTO tracking, maintenance, truck tracking and driver performance.
The Solution
GCI Slingers implemented Verizon Connect Reveal in 2014 to address these concerns.
PTO tracking. "My trucks spend most of their time off-road working with their PTOs running," says Pettijohn. That off-road fuel consumption qualifies for a significant tax rebate, but they had difficulty getting it approved by the IRS when they calculated it manually. Reveal tracks it automatically.
Reveal tracks regular maintenance on GCI's fleet to pre-order needed parts, minimize downtime and prolong trucks' useful lives. "If we don't do consistent oil changes, grease jobs, and things like that the trucks just aren't going to last as long," says Shop Manager Bill Blake.
Truck tracking. With Reveal, GCI can see exactly where all their trucks are, enabling more efficient scheduling and reducing delays. "We use Verizon Connect every day," says Dispatcher Wendis Fugate. "To track our trucks is huge for us."
Driver performance. GCI gets alerts from Reveal to help them coach drivers and motivate them toward better performance. Pettijohn says, "We see who was not speeding, who was not harsh driving, who hauled the most loads, who was here on time."
The Results
The company has seen significant improvements in every area they addressed with Verizon Connect, which was recently named the top solution on Compass Intelligence's A-list Index in Fleet Tracking.
Pettijohn points to a direct financial benefit resulting from PTO tracking. "At the end of the year, I get all my PTO time and I get a tax rebate on my off-road fuel." In 2017, that rebate was more than $90,000.
He's also seen strong maintenance benefits. "With Verizon Connect, we are able to see problems before they get to the point of breakdown. We're able to order the parts we need, schedule that truck to be down, and repair it during that schedule."
Truck tracking helps the company more efficiently schedule deliveries and avoid delays. "Prior to having Verizon Connect, we made a lot of phone calls to drivers," Fugate says. "Now, we can just pull up a computer screen and see right where they are at any given moment."
Finally, the company has used Reveal to motivate better driver performance, which in turn has helped the company save on their insurance premiums. Pettijohn says, "Since implementation, all the guys compete for driver of the month, and it's really helped our fleet to stay safe and efficient."
Find out how our platform gives you the visibility you need to get more done.