Small Fleet Managers: Take a Big Leap with Fleet Management Software
How big is a small fleet?
Small fleets are generally defined as fleets with fewer than 100 vehicles, with mid-size fleets ranging from 100-300 vehicles.1 There are a number of benefits related to operating a smaller fleet in the modern industry landscape. Small companies have fewer vehicles and assets to keep track of and hence lower overhead. The agility to respond to customers quickly is both the need and characteristic of a small fleet business.
Another benefit of smaller fleets is the opportunity for faster growth: "Growth in the number of very small fleets, those with fewer than six trucks, has far outpaced growth in the number of larger carriers in recent years."2 As these businesses continue to grow, small fleet managers deal with the same issues as mid- and large-sized fleets, in addition to some unique challenges. Just like their larger counterparts, small fleets are looking to technology to address these challenges and make an impact in their business.
What challenges do small fleets face?
In a recent survey by Bibby Financial Services, 68% of smaller carriers (1-100 trucks) cited increasing costs as their top challenge.3 While insurance was top expenditure for most businesses, fuel and vehicle maintenance were the second and third biggest costs.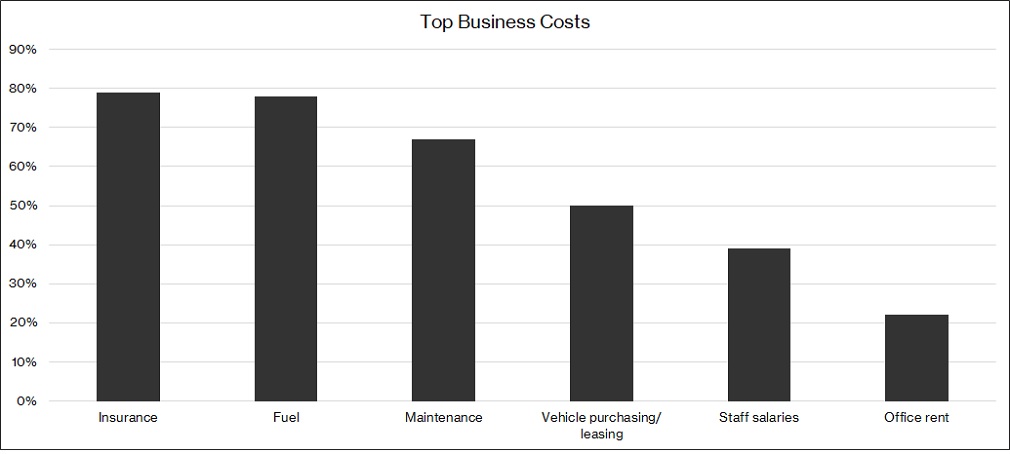 Those surveyed also noted some of the technologies that will have the biggest effect on transportation over the next three years. 47% of small carriers cited ELDs, followed by route optimization (28%) and predictive maintenance (28%).3
Small fleet businesses are looking to battle the growing competition by investing in technology at the right time. Many such businesses have already firmed up their technology investment plans for the next two years.4 33% of the businesses wanted to invest in predictive maintenance, 30% in route optimization, and 29% in fleet management. This is where a good Telematics solution can change the way you do business and keep up with the complex business needs.
From fuel savings to streamlined maintenance, the following are some of the ways a telematics solution can help streamline fleet management, improve operating efficiency, and increase your bottom line.
How small fleets can reap big benefits from telematics
1. Keep an eye on fuel economy and idling
Knowing how to accurately track fuel costs can be a big challenge for small fleets, even if they have been in business for a long time. Constant changes in oil prices, duties and other taxes can further complicate the situation. However, with the right data and best practices, small fleets can win the fuel battle.
Monitor. Measure. Educate. Repeat. These steps could be your key to affect a positive change in fuel economy for your business. Monitoring fuel usage, measuring the data, educating your drivers, and doing it periodically. Start to change the way you think about fuel economy by:
Integrating your fuel cards with the fleet management software and running reports to analyze total fuel spend per vehicle, as well as all fill-up locations.
Leveraging reliable fuel transaction data to track miles per gallon.
Pinpointing causes of high fuel consumption, such as unauthorized fill-ups, to help eliminate fuel slippage, also known as stolen fuel.
Enforcing fuel-saving habits and reducing fuel-wasting behaviors and fuel fraud to ultimately reduce overall fuel costs.
Putting an end to idling by monitoring vehicle idle times, inoperative vehicles and engine status by identifying which drivers are engaging in this fuel-wasting activity.
With data collected from a GPS tracking solution, you can tackle the most important first step, that is, monitoring your fuel consumption frequently and accurately. This allows you to understand a variety of factors that impact your fleet's fuel costs, enabling you to implement an ongoing fuel management program to help increase fuel efficiency.
2. Stay ahead with smart maintenance
For small fleets, taking even one truck out of rotation can lead to a scheduling disaster that results in loss of productivity, which in turn affects your customers and your bottom line. When it comes to managing the health of all fleet vehicles, preventive fleet maintenance is the most important step.
Telematics as a fleet management solution can help streamline maintenance processes for routine updates, such as tire rotations and oil changes, as well as bigger fixes. This helps to decrease expenses and keep all vehicles in safe operating condition. Managers of small fleets have the additional burden of keeping track of maintenance schedules. This process can take away this added pressure and help them focus on other productive activities.
From generating vehicle maintenance alerts, to improving preventative maintenance program accuracy to controlling costs, here are some of the maintenance benefits of fleet tracking technology:
Engine diagnostics: Access current battery voltage, coolant temperature, powertrain malfunctions, intake valve issues, oxygen sensor problems and more. Monitoring all of these diagnostics helps to identify issues before they result in major breakdowns.
Engine hour tracking and driver behavior data: With engine-hour tracking and driver behavior data, you can get a better picture of your vehicle's health. Telematics also enables you to detect behaviors that accelerate vehicle wear and tear, such as hard cornering and rapid acceleration.
Service records tracking: Receive proactive reminders for routine maintenance and automatically track vehicle service and completion dates. This allows for greater control in scheduling and improved, data-driven decisions.
3. Realize enhanced driver and vehicle safety
Safety is a top concern for small fleet managers and drivers—your employees are important to you, and you want to keep them as safe as possible. Telematics helps improve driver safety by monitoring the location and speed of every fleet vehicle. The technology also provides near real-time alerts when speeding incidents occur or other risky driving behaviors like hard braking and fast acceleration. Managers can set alerts based on unsafe driving conditions such as rain or snow or set a lower-limit speeding alert when vehicle wipers are active.
Telematics also helps support drivers in emergency situations by leveraging live location tracking to enable a faster, more efficient emergency response. In addition, when used in conjunction with integrated video, managers can view video clips of harsh driving events within minutes of an incident. These can then be used to coach drivers in improving safety, while at the same time rewarding those drivers who are already performing well.
4. Utilize smart dispatching and see improved utilization
For small fleets, the more flexibly a vehicle can be dispatched and the more accurately all vehicles and assets can be routed, the greater the ability to rein in expenses. Telematics allows small fleet managers and operators to quickly locate the nearest worker with the right skills and vehicle for a job, reducing per-mile costs. It also alerts managers and drivers to any traffic congestion or inclement weather, giving alternate routes to avoid any potential delays.
Telematics data also lets you identify which equipment and vehicles could be getting you a better ROI, and which should be sold or relocated. Finally, telematics helps managers improve responsiveness during emergencies and unexpected events, enabling you to instantly change vehicle routes and schedules at a moment's notice.
Fleet management technology is here to stay. Here are five signs that your business is ready for this telematics revolution. Download this free eBook now.
1 - https://www.automotive-fleet.com/148112/mid-size-fleets-measure-up
2 - https://www.overdriveonline.com/and-the-data-says-owner-operator-market-the-hottest-fleet-segment/
3&4 - https://www.bibbyusa.com/about-us/news-and-insights/reports/bfs-us-trucking-trends-report