Are you ready for International Roadcheck 2019?
International Roadcheck 2019 starts June 4. This annual three-day enforcement and awareness initiative puts your drivers and vehicles in the spotlight. Officers will perform Level I, II and III inspections around the clock for 72 hours. The focus this year is on steering and suspension systems. It's critical that you're well prepared. Download our free checklist to help avoid failed inspections.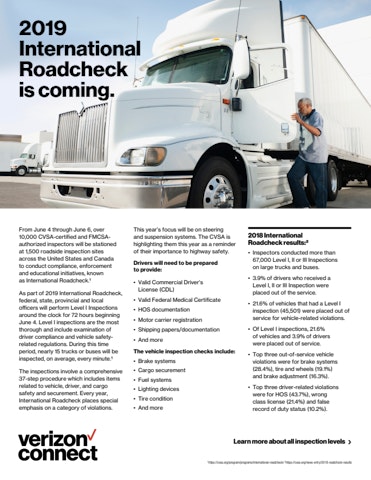 What's inside this eBook?
Top violations from 2018
Check out the top three driver and vehicle violations from the 2018 International Roadcheck.
Documentation checklist
Make sure your drivers are carrying all the required documentation in the cab to avoid unnecessary delays.
HazMat requirements
Learn about the special requirements and paperwork needed for transporting hazardous materials.
Electronic logging
Read our tips to make ELD and AOBRD checks easier for the driver and inspector.