GPS Fleet Tracking Users Report Positive ROI in Less Than Six Months
GPS fleet tracking usage up 8.5% YoY.
Users of GPS tracking technology reported a positive ROI in less than a year.
An average of 8% drop in fuel cost was reported by the users of fleet tracking technology.
Fleets that invest in GPS fleet tracking technology don't have to wait long before realizing true value from their investment, according to the 2020 Fleet Technology Trends Report. The survey, conducted for Verizon Connect by Bobit Business Media, found that there are proven benefits across multiple key performance indicators (KPIs) for fleets that implement GPS fleet tracking technology.
The report indicates a true competitive advantage for these companies when it comes to improving productivity, decreasing costs and even boosting customer service. The report, based on surveys completed by more than 1,200 U.S. fleet managers, executives and other mobile-business professionals, provides detailed insights into the value companies are achieving from their fleet technology investments.
Key data points from the report indicate favorable adoption rates and definitive benefits for those who have embraced GPS tracking, including productivity gains, streamlined compliance and a reduction in operational costs. What's more, nearly half of businesses that invest in fleet tracking say they realized positive ROI (Return on Investment) on their fleet technology in less than a year—many in less than six months. Let's dive in and see all the ROI results.
Who responded to the survey?
Survey respondents come from a number of demographics within the United States and from industries such as government, ground transportation and general freight. 27% of respondents are fleet managers, and 28% are at the executive management level in their organizations. Across all industries, these respondents face daily fleet management challenges such as promoting driver, technician and vehicle safety, enhancing productivity and controlling costs.
The industry is seeing significant adoption of GPS tracking technology
Nearly two-thirds (64%) of respondents are currently using a GPS fleet tracking solution in their organization. That's up 8.5% from last year, when 59% reported using the technology. Take a look at the usage trends by fleet size and industry in the graphic.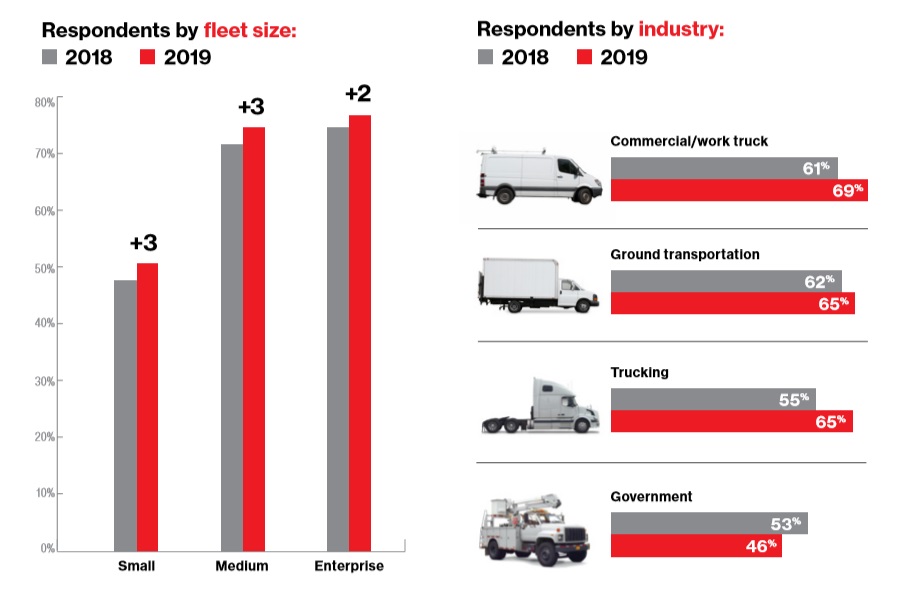 Those survey respondents who have embraced GPS tracking already recognize its benefits, as 42% of those currently using a fleet tracking solution consider it "extremely" beneficial. A full 80% consider it "extremely" or "very" beneficial—up from 74% in 2018. Those who said the technology is only "somewhat" beneficial dropped to only 18%, and only 2% say fleet tracking is not beneficial at all.
Given the wide-reaching benefits GPS tracking systems can provide to fleet-dependent organizations, it's encouraging to see so many companies embracing technology that can streamline costs and operations by:
Tracking vehicles in the field in near real-time
Improving worker productivity
Encouraging safer driving
Providing dashboards, reports and alerts that allow operators to:
Track driver behavior like speeding, idling and harsh driving
Help reduce costs for vehicle maintenance and fuel consumption
Improve dispatch, routing and visibility
A positive return on GPS fleet tracking investment can be achieved quickly
Almost half of our survey respondents reported that once they had implemented a new GPS fleet tracking solution, it did not take long for them to realize a positive return on their technology investment.
Overall, these companies are realizing positive return on the investment faster than ever, with 45% saying they've achieved positive ROI in 11 months or less, up 18.4% from last year. 22% reported positive ROI in less than three months, up 37.5% from 2018.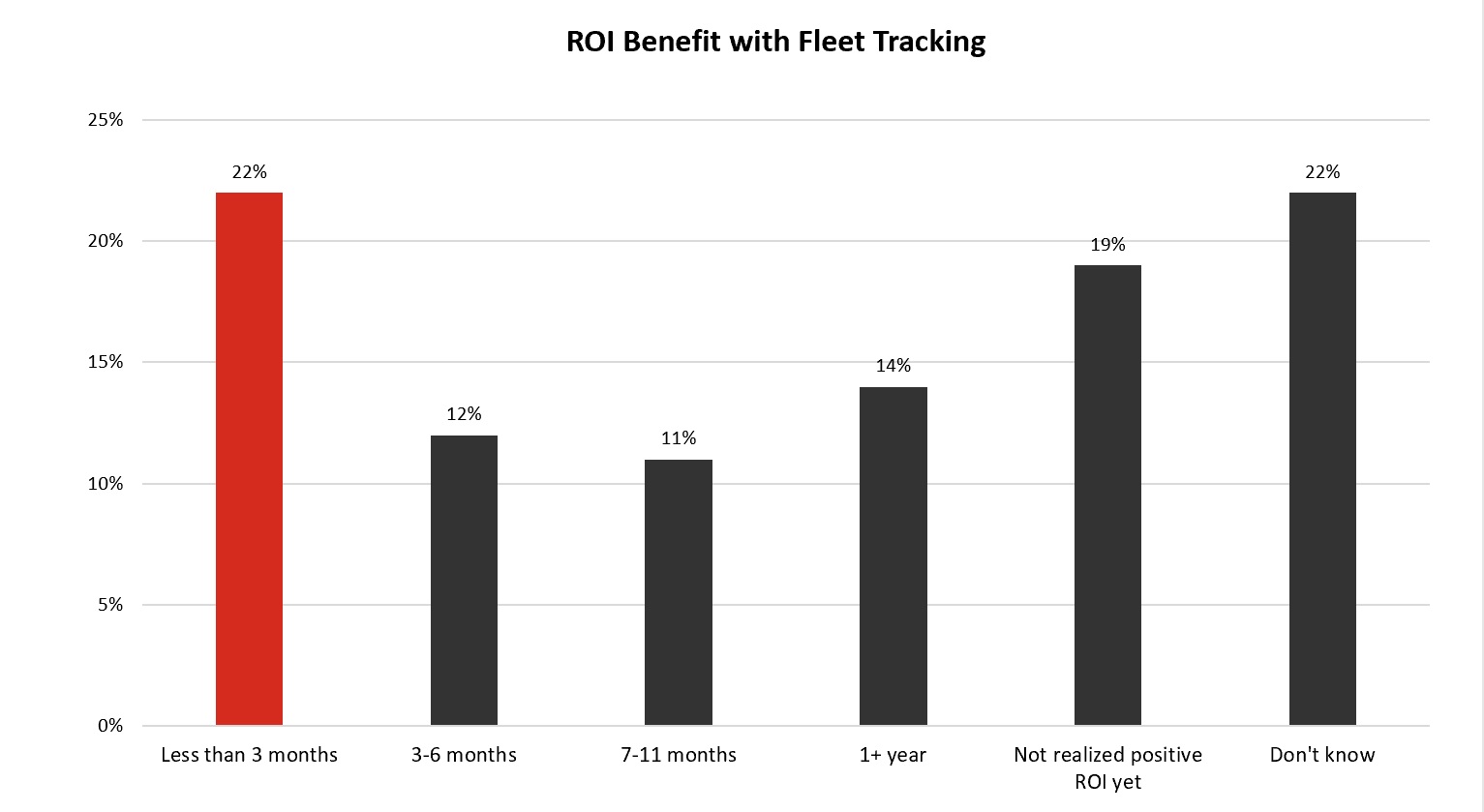 Some of the ways that organizations can get the most ROI out of their fleet tracking solution include:
Improving driver safety and reducing liability: Using GPS tracking, managers can proactively monitor behavior that increases the probability of a driver causing an accident. Safe driving can also be reinforced by using in-cab alerts, as near real-time coaching has proven to be particularly effective at keeping drivers aware of unsafe driving habits.
Improving asset utilization: Fleet tracking technology includes a number of dashboards that show operational efficiency and fleet utilization. They monitor a range of actionable metrics, including idle time and miles driven for each vehicle. This allows fleet managers to examine how individual vehicles are being driven and then balance capacity and vehicle utilization to reduce miles driven and wear and tear.
Reducing direct labor costs: Those managing a mobile workforce face the challenge of having little visibility into how teams are spending their time. Using GPS tracking, managers can see vehicle history for a specific day, including all trips taken, stops and idling events. It's a simple way to see how efficient workers are with their time, and where opportunities exist for improvement.
Keeping costs low is of paramount importance
In today's industry landscape, keeping costs low is critical to companies. According to Mike Antich, Editor, Automotive Fleet, "Labor rates continue to increase, exacerbated by the ongoing labor shortage in our economy, especially in urban areas that have a high cost of living. In order to attract skilled technicians, vendors and suppliers have been increasing the labor rate in order to bring these people into their companies, and that increased labor rate is translating over to fleets, which is putting upward pressure on fleet maintenance costs." This labor and technician shortage has a significant effect on companies, compounded by an ongoing driver shortage in the trucking industry.
The Fleet Trends Report brings out the trend towards cost saving by using the right technology. Many organizations are already seeing significant cost savings from integrated fleet technology: 36% of companies say they have lowered their fuel costs as a result of implementing fleet tracking. 22% report lower accident costs, and 13% say that technology has helped them reduce labor costs.
Read the full 2020 report to learn more about how your peers view and value GPS fleet tracking.
GPS fleet tracking users report positive ROI in less than six months. Get more interesting data points from 2020 Fleet Tracking Trends Report. Download now.