How an Intelligent Field Service Software can Benefit Your Business
Emergency work orders from customers. Multiple cancellations. Overlapping assignments. Finding the right person for the right job in the right location. That's what a usual business day looks like for field service companies. Top this off with seasonality, competition and technical challenges, and you have a high-pressure environment for everyone involved.
While customer demands and competition are the nature of the business, no field service company needs to be set back by technological challenges. In fact, they could turn the whole situation around by using technology to their benefit.
"The schedule they start out with at 7:00 in the morning is going to be completely different with what they end at 4:00 in the afternoon." - That's a usual business day for field service companies, and how Jon Young, product manager at Verizon Connect, defined their daily challenges.
To better understand how field service organizations can confront these challenges head on, we spoke with Jon about the real need for a field service management system (FSM) and how Verizon Connect's Field Service Dispatch (FSD) can benefit users.
Q: Why do companies need field service management software?
Technicians and dispatchers are the lifeblood for any field service business. Based on our research, we found that many companies are using traditional means to manage their day-to-day operations. With continuous cancellations and overlaps to tackle, a lack of service management software could lead to a significant inefficiencies and stress.
With a field service management solution, companies don't have to depend on the memory of a dispatcher or manual processes and paper logs to manage service calls. Technicians can just focus on the job and not feel confused about changing assignments.
Some of the key features that fleet managers should look for when deciding on a field service solution included fleet tracking, schedule and dispatch planning, job management, field service monitoring, workforce management, dispatcher notifications and customer notifications.
Q: Keeping these critical features in mind, how does Verizon Connect's field service software benefits businesses?
A: In speaking to our customers, from small businesses to enterprise scale operations, we've found that they quickly realized improved day-to-day worker productivity and end customer satisfaction as a result of using the simple scheduling and dispatch capabilities found in our FSM software.
We've also heard that the job creation process is simple and fast. The FSM solution is straight-forward, making it easy to get it up and running, and comprehensive training is available for all users. In a business where time is of the essence, these features are critically important.
Here, I would like to humbly submit the benefits of an integrated platform. The FSD solution integrates fully with our already-established product called Reveal. This integration makes it easier for field service companies to manage all facets of their mobile workforce—vehicles, job assignments and technicians—from one interface. Think of it as a control room for all things related to a company's mobile workforce.
Q: You mentioned that it's quick and easy to get FSD up and running. Can you walk us through the process?
A: The process really is intuitive and straightforward. To get the solution up and running, a GPS tracking unit is plugged into each vehicle in the fleet. It is then automatically integrated into the Reveal platform on any devices used by the workforce, including tablets, PCs and smartphones. Dispatchers can view the status of every fleet vehicle on the Live Map to determine which are stopped, which are idling and which are on the move.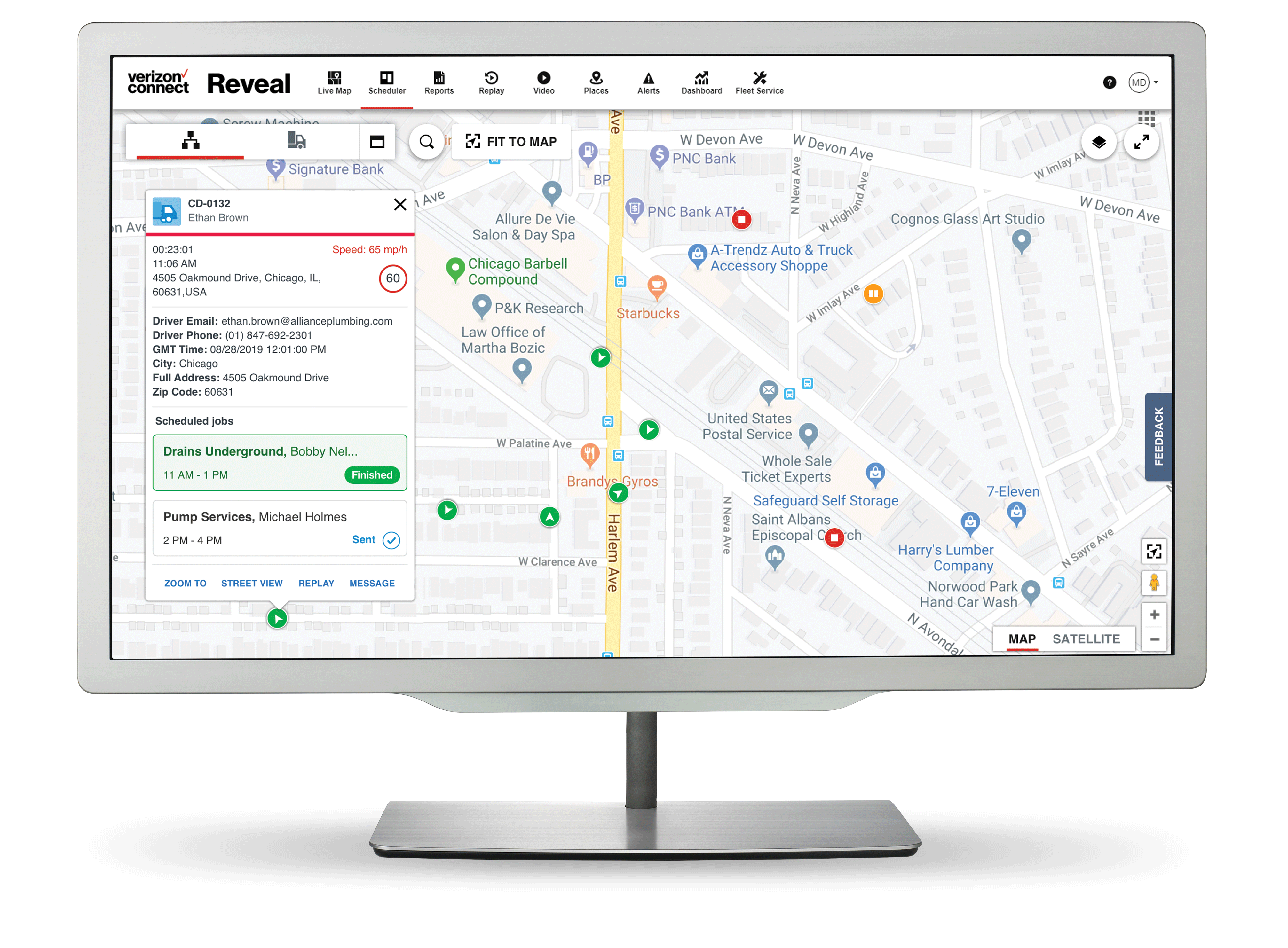 Q: In your experience, which features do the customers enjoy the most?
A: As a product team, it's very encouraging for us to see that our customers find our solution easy to use. Most of the customers we've worked with concurred that they found it very easy to schedule and reschedule using the technology. Some first-time users mentioned that they didn't need any training to get the software solution up and running.
In addition to being a centralized "hub" for management of all mobile workforce-related functions and resources, we've heard from our customers that some most valuable capabilities of the solution are:
Contextual field service monitoring, including a dynamic scheduler and Live Map
Dispatcher notifications, such as delays, ETAs and jobs not seen
The mobile technician app, which includes a jobs dashboard and near real-time status information
Proof of service, including notes, photos and signatures
Last mile end customer notifications (ETAs, delays, tech IDs, etc.)
Q: Can you take us through a few key benefits of the solution for dispatchers, owners and technicians specifically?
A: Our aim is that this solution should give them more time in the day. They can respond to change easily and quickly. If there is an emergency, they can see where a technician is, what jobs he or she is working on, and assign accordingly. This cuts down a lot of time spent on calls. Field Service Dispatch aligns with a number of unique needs for dispatchers, owners, technicians and end customers.
For dispatchers and owners, this includes:
Automated scheduling and dispatch
Intelligent scheduling recommendations
Easy customer and job creation
Smart notifications, including delays and ETAs
Job status monitoring on scheduler plus the Live Map feature
Proof of service data
Customer experience reviews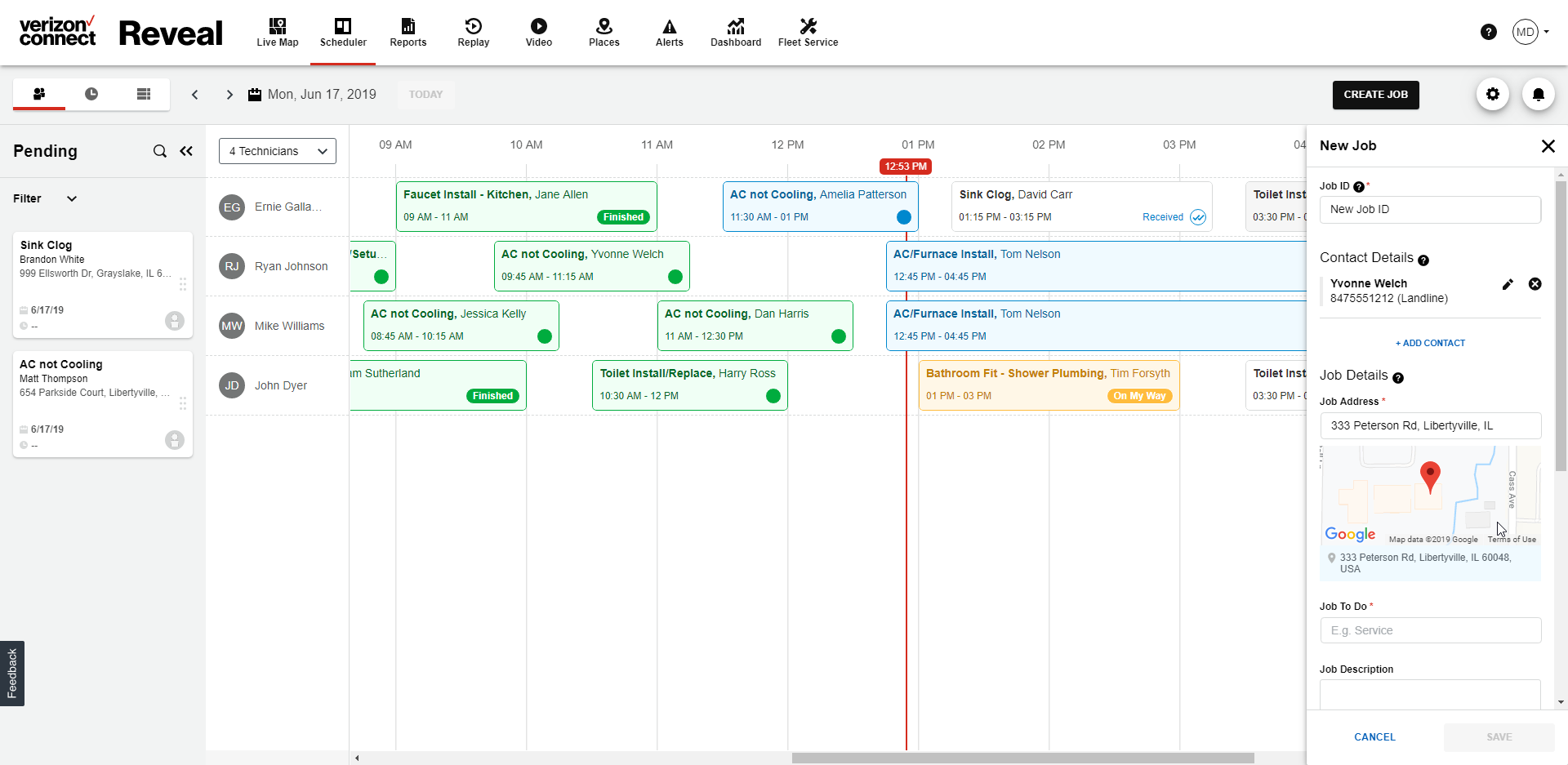 Field technicians can utilize:
Visibility of dispatched jobs
Capture proof of service data, including notes, photos and signatures
Near real time status updates
Capture travel time and time spent on site
End customers are able to:
Receive simple notifications, including job bookings and reminders
See last mile notifications, including delays, ETAs and technician IDs
Submit reviews
Reschedule jobs
Q: Since dispatchers are such a critical part of any field service company's ecosystem, how does FSD make their lives easier and more productive?
A: In the Scheduler tab, dispatchers can view every technician to see which workers are assigned to which vehicles and jobs. Then, by simply clicking on a vehicle in this tab, dispatchers can be taken to a Live Map view, called the vehicle balloon, that is zoomed in to the particular vehicle, providing all of the data about that driver in one easy-to-use dashboard.
Once a job is dispatched, field service technicians receive an instant, real-time notification on their tablets or smartphones via the mobile app, where they can see that they've been assigned to a job and what the details are around that job. And once a technician clicks on the notification, the dispatcher gets an alert that the job message has been read and that the new assignment has been received.
Dispatchers can also utilize the Live Map in Reveal to "group" lists and job tasks. This means that if a company has multiple dispatchers, one dispatcher can monitor his or her list of technicians and another dispatcher can have a separate list of technicians or current jobs that are in process. Multiple dispatchers can see what's pertinent to their job tasks without having to scroll or rearrange within the tab.
Q: What else would you like field service companies to know about how this technology can transform their business operations?
A: FSD provides dispatchers and technicians with long-term ROI when it comes to day-to-day productivity and efficiency. Our customers have told us that this means dispatchers no longer need to constantly call technicians to communicate with them or try and find them, making for a more efficient and less stressful workday.
At the same time, managers always know the precise whereabouts of every valuable vehicle and piece of equipment in their fleet—which streamlines the daily operations of our customers' businesses and their bottom line.
Is it time for your organization to combine scheduling, dispatching and fleet tracking on one fleet management system? Learn more about what Field Service Dispatch from Verizon Connect can do for your service fleet, and how to add it to your Reveal platform.