AOBRDs vs. ELDs – What You Need to Know to Stay ELD Compliant
July 23, 2019
The final deadline for fleets to transition commercial motor vehicles from older Automatic Onboard Recording Devices (AOBRDs), Electronic OnBoard Recorders (EOBRs) or eLogs to a fully compliant Electronic Logging Device (ELD) – December 16, 2019 – is coming up quickly. As a reminder, those who must adhere to the ELD mandate by that date are: all interstate truck drivers who are currently required to fill out a record of duty status (RODS) or driver log book. And, the mandate applies to all hours of service (HOS) rules, including the 10-Hour Rule, 14-Hour Rule, 11-Hour Rule, 30-Minute Rest Breaks Rule, 70-Hour Rule, and 34-Hour Rule.
However, there are ELD compliance exemptions. If a driver falls under one of these categories, they are exempt from using an electronic logging device and can maintain a paper log book:
Drivers who use paper RODS for not more than 8 days during any 30-day period
Drivers conducting a drive-away-tow-away operation (an operation in which an empty or unladen motor vehicle with one or more sets of wheels on the surface of the roadway is being transported) if the vehicle being driven is the commodity being delivered, or if the vehicle being transported is a motorhome or recreational vehicle trailer.
Drivers of vehicles manufactured before model year 2000
These updates and exemptions are great examples of why businesses that rely on fleets cannot assume that compliance is a single step process; it is critical to continually review your status and keep up with the latest compliance news.
Since most fleets and their drivers will need to be compliant with the final ELD rule, now is the time to make sure you understand all of the various differences between the AOBRDs of yesterday and the ELD devices of today.
AOBRDs, EOBRs and eLogs: a brief history
AOBRDs predate ELDs by 30 years; rules around their use were first published in 1988 by the Federal Motor Carrier Safety Administration (FMCSA) in the U.S. Hours of Service of Drivers regulations Section 395.151. AOBRD technology has worked to make the logging of truck drivers' HOS easier, though its use in the industry has been limited.
In 2010 the FMCSA expanded their ruling to require certain drivers and transportation companies use Electronic On-Board Recorders (EOBRs), though this expansion was successfully challenged in court in 2011 as noted in the final ELD ruling2. Today, AOBRDs and EOBRs are terms used interchangeably to describe pre-ELD mandate elogging devices.
AOBRDs vs ELDs – how they compare
AOBRDs and ELDs differ in how they operate, especially in relation to general functionality and device display. Here's a quick overview of the FMCSA's technical specifications3 to get you started:
Functionality
AOBRD
ELD
Integral synchronization
with the vehicle
Not defined in FMCSA rules
ELD must interface with ECM to automatically capture engine power status, vehicle motion status, miles driven, and engine hours.
Recording vehicle location information
Required at each duty status change (can be manual)
Required at each change of duty status, engine on/off events, at 60-minute intervals while vehicle is in motion and beginning and end of personal conveyance use or yard moves.
Graph grid display
Not required
Required – must be able to show a graph grid on display or print out
Hours-of-Service (HOS)
warning messages
Not required
Unassigned driving time must be displayed to the driver at login
Default driver's duty status
Not addressed
None allowed outside switch to On Duty when vehicle has not been in motion for 5 consecutive minutes and driver has not responded to prompt within 1 minute
Data transfer methods to law enforcement
Not required
Required. The driver must to be able to email driver logs or send them via web services
Resistant to tampering
AOBRD must be tamperproof
ELD must support data integrity check functions and must not permit alteration or deletion of original information
Sensor failures and edited data
Must identify sensor failures and edited data
Must be able to monitor its compliance for malfunction and data inconsistencies and ELD must record those occurrences
Device display
AOBRD
ELD
Driver VDL information
Not required
Must be displayed in header of daily ELD record and in the ELD file sent to FMCSA
(includes driver license and state information)
Vehicle VIN number
Not required
Must be displayed in header of daily ELD record and in the ELD file sent to FMCSA
Carrier DOT number
Not required
Must be displayed in header of daily ELD record and in the ELD file sent to FMCSA
It's clear that ELDs come with additional compliance rules and stricter adherence policies. But that doesn't mean they don't offer fleets and drivers positive outcomes. That's why it's important to understand the benefits of fully compliant ELDs, too.
Why embracing ELDs is a good thing for trucking fleets
For those who have already adopted a compliant ELD for their fleet, the new compliance mandate has proven highly effective. In fact, according to the FMCSA4, "ELDs are working – hours of service violations have dropped significantly."
And since the original ELD mandate went fully into effect, less than 1% of all roadside inspections have resulted in the driver being cited for operating without a required ELD5.In addition, trucks fitted with an ELD had:
An 11.7% reduction in crash rates
Lower preventable crash rates by 5.1%
A 53% lower driving-related HOS violation rate
A 49% lower non-driving-related HOS violation rate
Finally, year-over-year, the absolute number of maximum driving hour violations trended down in 20186, and as more fleets adopt ELDs by the December 2019 deadline, it's likely the number of violations will continue to decline.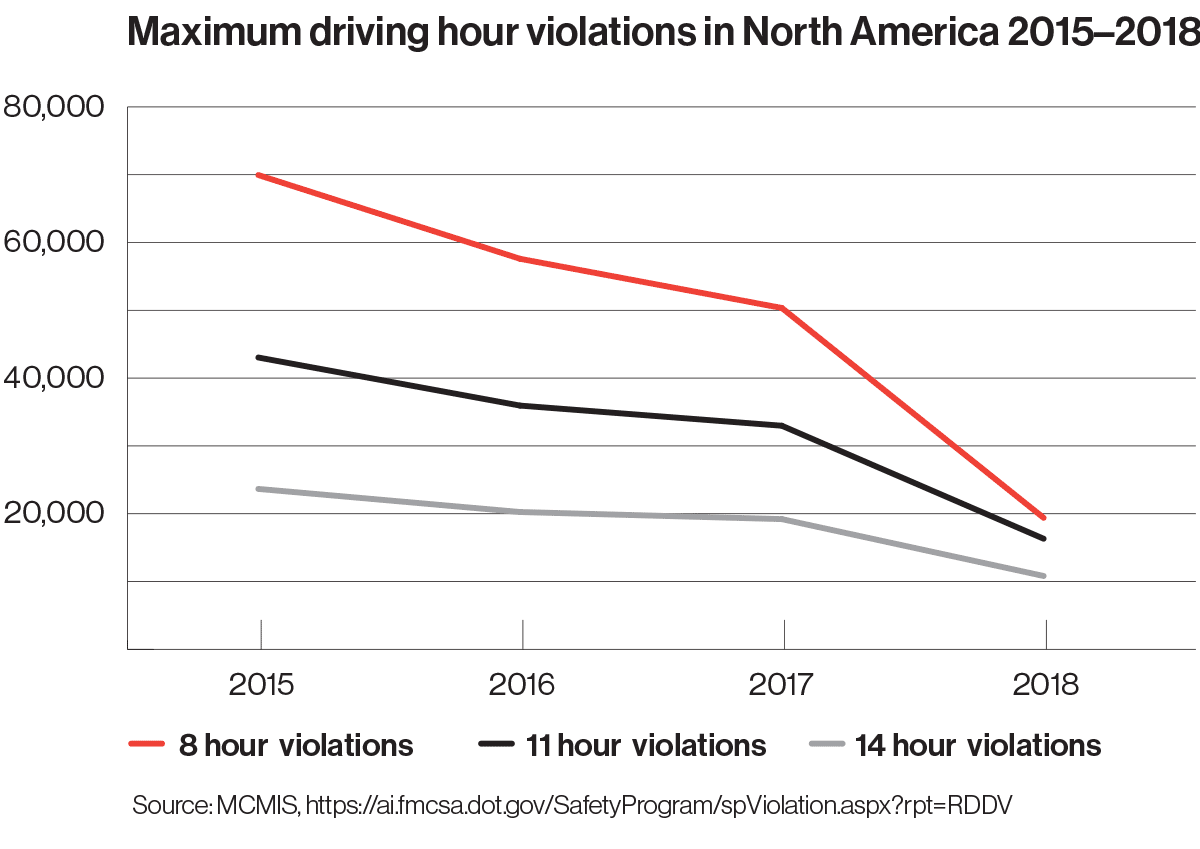 Why bundle ELD and fleet tracking?
The fast approaching end of the AOBRD grandfathering period is a chance to reassess your fleet management systems in greater depth - are you getting the most out of your fleet of trucks now that you've got compliance ticked off? Verizon Connect's ELD offering, which bundles compliance with fleet tracking software, can improve business efficiency, reduce operational challenges and control costs beyond just reducing your risk of an HOS violation.
Many businesses, like Midwest-based trucking company R&M Trucking, stay compliant and productive practicing safety measures that go above and beyond what is required for a company in their industry. For any company still trying to decide on a provider to comply with the ELD mandate, R&M Trucking's Safety and Compliance Director Mike Narvaez says the time to act is now.
"It's here. You have to comply and you have to follow the law. The sooner you get on board, the better you'll be. It's a process, not a light switch. A company that waits to the last minute to be compliant, won't be. That's the bottom line."
On-demand webinar: Making the move from AOBRD to ELD
With about 5 months until the ELD extension for compliance expires, we want to help make sure you're prepared. Have you already invested in an ELD device, only to find it's not compliant? Have you been waiting as long as possible to adopt an ELD solution? No matter where you fall on the ELD spectrum, we want to help you stay ahead of the curve and make sure you're prepared for the ELD-only world that begins on 12/16/19.
If you want to know more about the world of AOBRD and ELD, we recently hosted a webinar, "AOBRD to ELD – Make the Move Before Time Runs Out", that shared important timeline milestones that every fleet should know and debunked some of the more common ELD misconceptions (including that ELDs are an invasion of privacy and that they increase operational costs). We also highlighted even more hidden benefits (e.g. productivity and revenue) that ELD technology can offer fleets.
Ensure that you're "on board" for the end of the AOBRD rule and view the full webinar video below!
Sources
1 https://www.fmcsa.dot.gov/regulations/title49/section/395.15
2 https://www.fmcsa.dot.gov/sites/fmcsa.dot.gov/files/docs/ELD%20Final%20Rule.pdf
3https://www.fmcsa.dot.gov/hours-service/elds/differences-between-aobrds-and-elds
4https://www.fmcsa.dot.gov/sites/fmcsa.dot.gov/files/docs/regulations/enforcement/406471/eld-infographic-6-month-update-f2508621.pdf
5 https://www.freightwaves.com/news/driver-issues/fmcsa-provides-updates-on-eld
6 https://ai.fmcsa.dot.gov/SafetyProgram/spViolation.aspx?rpt=RDDV