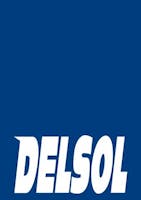 Barry Williams, Assistant Transport Manager
Wales-based courier company save £125 per day through efficiency gains with Reveal
Delivery Solutions (DELSOL) is an independent courier company covering North Wales and North West England, specialising in the delivery of parcels and pallets.
The company has over 150 staff covering four locations, including two depots, a storage facility and sub-contractor sites.
The Challenge
With such a large remote workforce, spread across multiple sites, DELSOL faced a challenge not uncommon to many in its industry: accurately monitoring the whereabouts of its staff. With vehicles constantly on the road or in external depots, management wanted a way to get a full picture of its operation – to see exactly who was where and what they were doing.
On top of this, there was concern about the efficiency of the company. With no GPS tracking solution in place to track staff activity and behaviour, DELSOL could not be confident that valuable time and money was not being lost to fuel waste and missing man-hours.
The company set out to find a solution to help it overcome these challenges – giving total visibility of the fleet's location and activity.
The Solution
The Reveal solution was the perfect fit for DELSOL, offering near real-time location tracking as well as deep analysis of fuel spend and consumption, site arrival and departure time and a range of other metrics that can be leveraged to drive greater productivity.
DELSOL's office staff saw great benefit in the Live Map feature as it entirely removed the need to check up on drivers via phone during the working day.
As for minimising wasted time and fuel, Assistant Transport Manager, Barry Williams, found the Replay feature to be extremely beneficial:
"I can look back at any driver's day. I can check his daily run, mileage and hours worked. I can also spot any time wasted on personal errands or unauthorised trips home."
The Results
With Reveal in place, DELSOL has seen significant efficiency gains across the board.
As well as reporting a notable reduction in fuel consumption and spend, Mr. Williams estimates that the company has made savings of around £125 per day, previously lost to wasted man-hours – a figure he believes could increase considerably in the future:
"We are planning to re-structure our vans and trucks and could potentially see a total saving of around £40,000."
The restructuring is the result of spotting crossover and underutilised vehicles since implementing the Reveal system.
Other inefficiencies have also come to light thanks to Reveal. DELSOL is now easily able to spot when drivers are claiming too many hours worked Mr. Williams uses the solution's Geofence capability to monitor when drivers visit their home address throughout the working day or take detours to run personal errands.
The company's customers are also seeing the benefit. With Reveal in place, DELSOL can respond to customer queries faster, quickly and easily send the nearest driver back to a job if required and offer more accurate ETAs for deliveries.
Overall, the implementation of Verizon Connect's Reveal solution has been a great success, helping DELSOL to monitor and manage its mobile workforce, spot and reduce inefficiencies and improve customer service.
"Reveal has made a lot of people's jobs easier. Our office staff spend less time chasing drivers. We know exactly where our fleet is at any given time, and we've been able to drive down fuel costs." - Barry Williams, Assistant Transport Manager.
Find out how our platform gives you the visibility you need to get more done.