Update: Fleet Technology Trends Report 2021 is live and available for download.
If there is one business lesson to take from 2020, it's the importance of preparedness, connectivity and resilience—and fleets across industries have had to navigate uncertainty and swiftly adapt to new ways of operating this year. According to the 2021 Fleet Technology Trends Report, 32% of GPS tracking users reported a positive ROI in less than 6 months.
Continue reading for fleet facts from 2020 Fleet Technology Trends Report.
The influence of technology on the fleet industry is not only increasing, it's completely changing the way owners are approaching business operations and risk management. Results from the 2021 Fleet Technology Trends Survey show that the ability to lower costs related to accidents and other safety-related incidents is a crucial factor for fleet professionals in determining a best-fit fleet tracking solution. In fact, fleet professionals currently using a fleet tracking solution realized an average decrease of 11% in accident costs.
This report is based on a survey conducted by Verizon Connect in collaboration with Bobit Business Media, the publisher of leading trade publications like Automotive Fleet, Heavy Duty Trucking and Government Fleet. 1,200 U.S. fleet managers, executives and mobile workers ranked their preferences and priorities when making the important decision of investing in GPS tracking technology.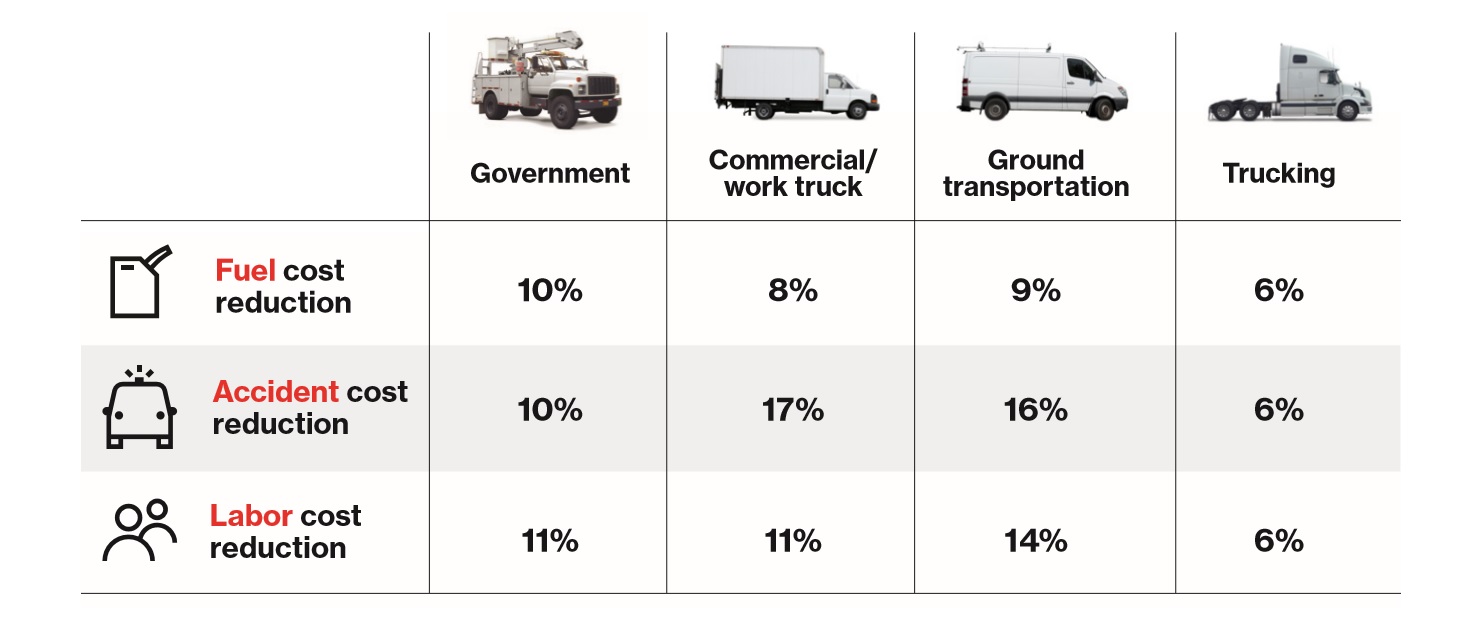 Fleet tracking investment data proves that safety matters
Drivers are at the heart of any fleet operation, and their safety and the safety of the vehicles they drive is the top concern. Many fleets are already recognizing the potential of fleet tracking technology to help prevent accidents and mitigate the issues that can stem from driving incidents. 15% of small businesses, 28% of medium-sized businesses, and 22% of enterprise-level businesses saw a decrease in accidents after implementing a fleet tracking solution. In addition, the average decrease in accident costs was 17% for small and medium fleets and 14% for enterprise fleets.
Other factors that impact safety also rank high with fleet professionals. Specifically, a notable percentage of fleet tracking users reported improvements in compliance (52%) and maintenance (49%).
Thirty-six percent of fleet professionals also say they've lowered fuel costs, and 13% say they've lowered labor costs.
Lower fuel and labor costs also translate to greater ROI. According to Jim Mele, a commercial vehicle analyst for Wards Intelligence, "The constant challenge for anyone running trucks is total cost of ownership and how to minimize your total cost of ownership."
The overwhelming consensus among those who have implemented a new GPS fleet tracking solution is that it did not take long to realize a positive return on their technology investment. Overall, 45% of those currently using a GPS fleet tracking solution estimate that they reached a positive ROI in less than a year, and 22% of those reached this milestone in less than three months.
Get to know more useful data points from 2021 Fleet Tracking Trends Report. Download now.
How to support safe operations
Stay on top of engine diagnostics: Preventative maintenance is a critical part of enabling vehicles to operate as safely as possible—but it means staying on top of the state of all vehicle engines. It's important to monitor diagnostic data like battery voltage, coolant temperature, powertrain malfunctions, intake valve issues, oxygen sensor problems and more. This helps extend the life of vehicles by servicing them before major repairs are needed or breakdowns occur.
Reduce speeding, hard braking and acceleration: Speeding increases the risk of accidents, and harsh braking and acceleration can be an indication of aggressive driving or a sign that a driver is rushing. This behavior can put your driver, and those on the road at the same, at risk. It can also damage your vehicle, making it unsafe to operate.
Robert (Bobby) White, owner of Maple Hill Lawn & Garden, shares his experience with using technology to help correct harsh braking: "On one of the big trucks that we use, the brake jobs are very expensive, and we had a driver who was incredibly hard on the truck. If you start seeing a repeated offense, that's somebody who's abusing the vehicle. We kept noting these incidents on that driver's records and it probably saved us a lot of rear-end accidents. What's so great is that the timing is live, and I can make a phone call to the driver moments after a harsh braking event occurs."
Leveraging technology to realize ROI
Savvy business owners are prioritizing the value of fleet tracking technology over the initial investment cost, and realizing greater ROI and safety because of it. Those companies that embrace the technology can help streamline costs and operations by:
Tracking vehicles in the field in near real-time
Improving worker productivity
Encouraging safe driving
Providing dashboards, reports and alerts that allow operators to:
Track driver behavior like speeding, idling and harsh driving
Reduce costs for vehicle maintenance and fuel consumption
Improve dispatch, routing and visibility
A single accident can lead to injury claims, vehicle repairs and lost productivity. Fleet tracking provides insight into driver behaviors and forms the foundation of a safety program specific to your unique fleet needs. Adding smart dashcams to the technology mix can provide you peace of mind when it comes to potential accidents, and further enhance coaching capabilities by providing real context around areas for driver improvement.
To learn more about how your fleet peers value fleet tracking technology, view the full 2021 Fleet Trends report.