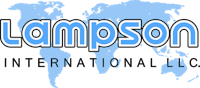 Tony Cornwell, Operations Manager
Verizon Connect's near real-time monitoring helps Lampson International improve crane rental operations
Companies that rent and service heavy equipment have a vested interest in knowing where their assets are at all times. In addition to location data, though, these companies also have to gather a large amount of operational data so that they can properly maintain their equipment and provide accurate billing statements to their customers.
Lampson International rents cranes and heavy lift equipment to construction firms and other companies around the world. The company has deployed a GPS solution from Verizon Connect to better track and control its rental equipment, as well as improve its billing processes and invoice accuracy.
"We have a better idea of where our machines are at any given time and it helps us from a logistics standpoint to find the best machine to send to a new customer, based on their location" says Tony Cornwell, equipment operations manager at Lampson. "The devices also help us track hours of usage for the machines." Although the company had been using wireless technology to track and monitor its equipment for some time, Lampson switched to the Verizon Connect solution more recently in order to take advantage of additional features.
"We work in very remote areas" Cornwell says. "The system we previously used was based on cellular communication rather than satellite. Some of these cranes go on rent and we won't see them for 18 months or two years. If they were in an area that didn't have cellular coverage, then all the machine data was lost. We wanted to use a satellite-based solution so that we could find a machine no matter where it was at."
Not having near real-time, remote access to the equipment also complicated the billing process. When equipment was out of coverage, Lampson employees would have to call up customers and obtain operator logs for the equipment in order to keep track of usage. Lampson first encountered Verizon Connect at some industry trade shows, and deployed the new system in part because of the company's ability to adapt to Lampson's needs. "Other solutions were very rigid about the way data was reported" Cornwell says."Verizon Connect not only provided the satellite coverage we needed, they worked with us to build reports that would present the data the way we wanted to see it."
Verizon Connect also had the experience to adapt the GPS units to fit the more advanced power management needs of the various cranes in the Lampson fleet.
Near real-time data simplifies operations
With near real-time data on crane usage, Lampson can more efficiently monitor the equipment and bill for usage. "Before, somebody had to be on the phone every month calling the customer" Cornwell says. "At times we never did get the information until the very end of the job when we went to tear down the machine. It helps us, as a lessor, keep track of the equipment."
Lampson has installed the equipment on approximately 150 cranes, and expects to have the entire fleet deployed on the system. The company also plans to expand the solution to include its service trucks and semi tractors. "We'd like to monitor other things with those vehicles" Cornwell says. "For instance, the system could help us manage state fuel taxes and driver logs as the trucks move from state to state."
Lampson is not yet utilising the solution to its full capacity, but Cornwell sees many opportunities to expand the Verizon Connect system in the future. "There are a lot of things we've been kicking around" Cornwell says. "Customers could use this as a preventive maintenance tool, which would prevent breakdowns and unnecessary repairs. We could monitor oil temperatures and pressures, for instance, so that we could tell if an engine is running hot or if the oil is low."
As an example, one particular pump in the cranes is prone to throwing a belt, which can burn up the transmission."That's a $60,000 repair" Cornwell says. "If that system could send us an alarm when the belt slips, we could save them from shutting down that machine by monitoring the pressure. I think there are lot of things we can do with the solution that will save us and our customers a lot of money and aggravation."
Find out how our platform gives you the visibility you need to get more done.